Purchasing a car can be a major investment. Consider shopping around before buying a new or used car to guarantee you get the best deal possible. Taking out a personal loan or using car finance options like PCP or HP are more prevalent than using a credit card.
However, utilizing a credit card can be the most cost-effective method of financing a new car if done correctly.
The focus of this article is to describe why and when you should use a credit card to pay for your next car.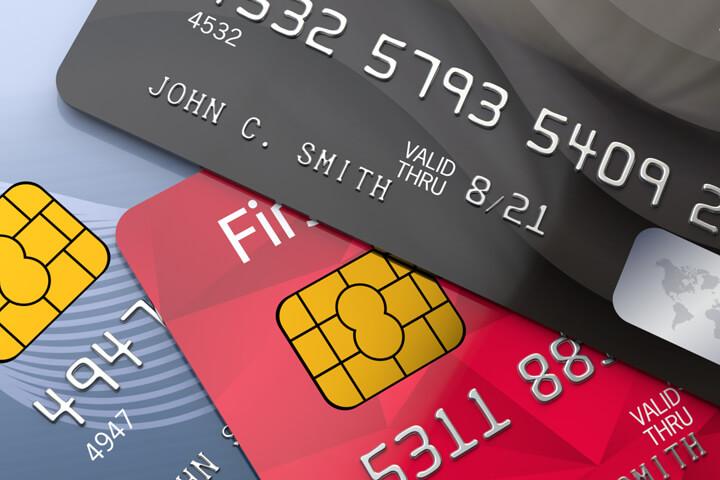 Is it possible to buy a car using a credit card?
Yes, you can buy a car using a credit card. Purchasing a car using a credit card is similar to purchasing anything else with a credit card. The total price is charged to your credit card, and you repay the credit card company over time while incurring interest on the outstanding balance. Unlike some other loans, you will not be required to make a fixed monthly payment. As long as you fulfil the minimum monthly payments, you have more flexibility in deciding how much you pay back each month.
You'll need a good credit score and a credit card with a higher limit. However, you should first check if the dealership even offers this option. Even if the dealer accepts credit cards, there's a chance your card issuer may not support such a large payment; some providers impose a restriction on the amount of money you can spend on a single purchase (typically £5,000), so read the fine print before signing up for a card.
Are credit cards accepted at car dealerships?
In the United Kingdom, many vehicle dealers accept credit cards as payment. It's the option chosen for about one out of every 20 car transactions in the UK.
Using a credit card to pay for a car in full or in part might have benefits, especially if you have access to a 0% interest car credit card or can earn points or air miles.
However, not every dealership accepts credit cards as payment, and even those that do may not allow you to charge the total price to your card. Dealerships may also charge a processing of up to 3%.
To keep your choices open, you might want to look into other sources of financing. As a general rule, it's always a good idea to enquire directly with the dealership about your financing choices.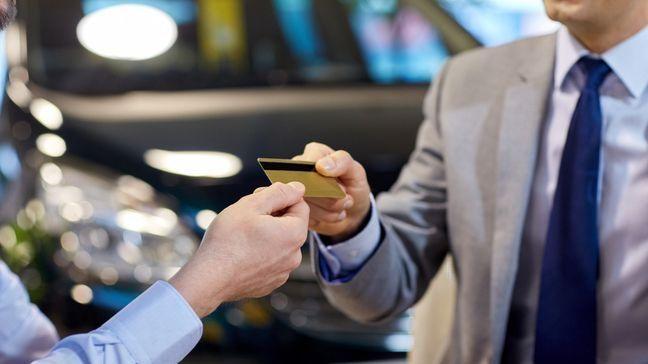 Why should you pay for a car with a credit card?
In an ideal situation, you should apply for the longest 0% interest credit card you can, whether a purchase card or a money transfer card. You'd then use the money to buy a car and pay a fixed amount each month until your 0% interest charge expires. The loan would be paid off after the 0% period, so you wouldn't have to pay any further interest on the credit card.
Paying with a credit card also protects your purchase if you have any issues with the garage or vehicle. It is possible to get a refund for products or services you pay for using a credit or debit card because of Section 75 of the Consumer Credit Act (CCA).
When should you use a credit card to purchase a car?
When looking to buy a cheap or used vehicle with a 0% APR deal, it may make sense to use your credit card to complete the purchase. Make sure you can afford to pay off your car in a reasonable amount of time before doing this. Avoid paying normal APR rates, which may be greater than those offered by a reputable car loan provider.
Which factors should you check before purchasing a car using a credit card?
Depending on why you want to buy a car with a credit card, there are various factors to consider before doing so.
Ensure you can afford to pay the bill
Although it appears to be self-evident, many consumers charge an automobile to their credit card without properly accounting for managing the purchase. Credit card interest rates are not at record lows, even though vehicle finance rates are. As a result, unless you can pay off your balance immediately, whatever points you earn will be wiped out nearly instantly by the interest rate on your credit card.
Ensure that you have a large credit limit
You'll need a sufficient credit limit to purchase a car outright or even make a significant down payment with your credit card. If you currently have a low credit limit, you may need to contact your bank or credit institution. You can seek an increase in your credit limit, and if your account is in good standing, your request may be granted.
Furthermore, if you have multiple cards from the same issuer, they will usually move some of the credit limits from one card to the other.
Inform your credit card provider before buying
Whether you plan to buy a car outright or make a large down payment with your credit card, you need first to contact your provider. Call them and tell them you're going to buy a car and will be charging a large sum of money to your credit card. It's important to notify them ahead of time. A charge of that size could otherwise raise a fraud warning, delaying the purchase.
Manufacturer credit cards
Getting an automaker's branded credit card is another viable option worth considering. You earn awards with every transaction, just like you would with a standard credit card, and you can use these rewards toward the purchase of a car.
How to use a credit card to pay for a car purchase?
Depending on your credit card, you have the following options.
Using 0% rates
After getting a 0% card, set up a monthly direct debit. This direct debit should cover the minimum payment. For large debts like this, it's advisable to figure out how much you need to pay each month to pay it off before the 0% term finishes.
Money Transfer Cards
If your dealer does not accept credit cards, you can still pay with 0% interest using a 'money transfer' card. These cards are excellent for loans under £5,000.
With these cards, you pay a one-time for a balance transfer of funds from your new card to your bank account rather than the car dealer. It's like taking out an interest-free loan. Once the funds are in your account, you can buy a new car. The biggest disadvantage of money transfer cards is the lack of Section 75 protection.
Is it a good idea to use a credit card to pay for a car?
Buying a car on a credit card has its pros and cons. Before you commit, make sure you've done your research. Repayments should be discussed with your bank, and you should double-check your budget to ensure you can afford them.
Advantages of paying for a car with a credit card include:
You might be able to reap the benefits of special introductory offers, such as 0% interest for a limited time.
Some credit cards may provide rewards like cash back or air miles.
You may be entitled to extra protection under Section 75 of the Consumer Credit Act when buying on credit.
Credit cards are flexible, so you can make a minimum payment at any time if you run out of cash.
The disadvantages of paying for a car with a credit card include:
Not every dealer is willing to accept credit card payments.
Even if they take cards, you may not be able to pay the entire amount in one go.
Dealers may levy an extra if you pay with a credit card.
High- interest rates, especially after a promotional period has expired.
If you don't have the discipline to pay it off on time, your loan will become costly after the 0% period finishes.
Not everyone will be approved for a credit card with a high credit limit or a 0% interest rate.
Is it right for me to buy a car using a credit card?
Buying a car on a credit card can be a good idea if:
You have a credit card with no or low interest.
You have a lot of credit available to you.
Your credit card company can offer you perks and points.
You desire to be the only owner of the vehicle.
A bad idea if :
Your credit limit is low, and you can't buy the car.
You want to change your car every few years.
You believe you will have trouble keeping up with payments.
What additional car-buying options are there?
Following are the different car payment methods available.
Personal Contract Hire (PCP)
Pay a 10% to 20% deposit and make monthly payments with the option of a balloon payment at the end of the loan term if you want to own the vehicle outright.
Hire Purchase
You'll own the vehicle outright after the loan period if you pay an initial deposit and make monthly payments.
Personal Loans
They are unsecured loans transferred to you or the dealership and are typically for most of the entire loan amount. This is the most affordable kind of vehicle financing, and you will own the car at the end of the term.