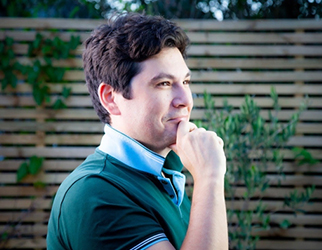 Roman Danaev
If you're looking to be more environmentally friendly, minimize fuel costs, take advantage of tax benefits, or simply purchase a car that holds its value, a hybrid is a great choice. While there are fewer hybrid models available on the used car market compared to traditional fuel vehicles, there is still a wide variety to suit all tastes and budgets.
In this article, we'll discuss some of the best hybrids currently available and explain why they made our list. To find affordable used hybrids in excellent condition, use the Carplus online tool. We'll assist you in locating cars that meet all your requirements and connect you with reliable dealerships, allowing you to buy with confidence.
1. Toyota Yaris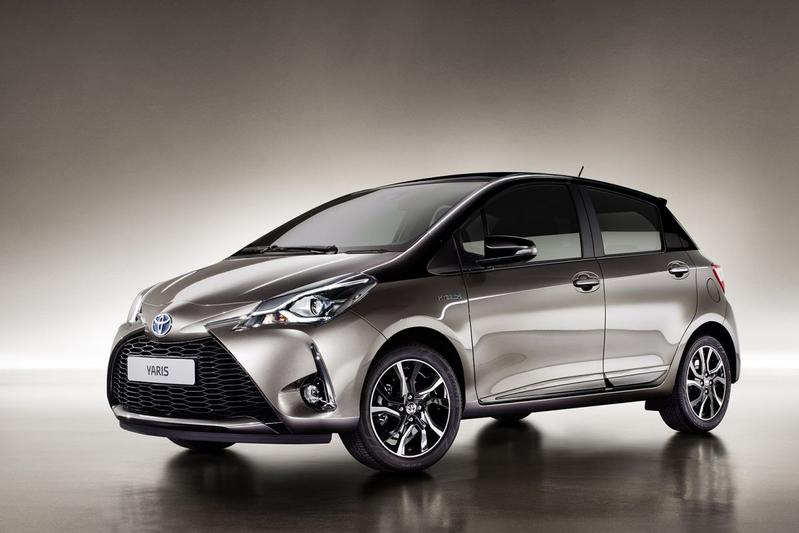 | | |
| --- | --- |
| Price | Starting from £8,450 |
| Body type | Hatchback |
| Gearbox type | Automatic |
| Doors | 5 |
| Seats | 5 |
| Fuel | Hybrid petrol |
The Toyota Yaris is a supermini hatchback that prioritizes affordability and practicality. However, this doesn't detract from its modern and forward-looking design or its decent level of interior equipment. Used examples of the Yaris are just as brisk, sporty, and smooth as new versions.
The engine choice is limited to one model - a 116-hp petrol-electric hybrid system. Specifically, the system comprises a 1.5-liter petrol engine (three cylinders) and an electric motor. The fuel economy is around 60 mpg, which you're likely to experience during regular in-town driving. The emission-free driving mode is demonstrated during engine-off reversing or slow-moving traffic. Typically, emissions are around 92 g/km of CO2.
On city roads, the Yaris performs well with moderate acceleration. However, its off-road capabilities and uphill driving are weaker compared to more powerful and more expensive rivals. Interior space is average - fitting five people may not be very comfortable, but it's perfectly adequate for shorter trips.
2. Toyota Auris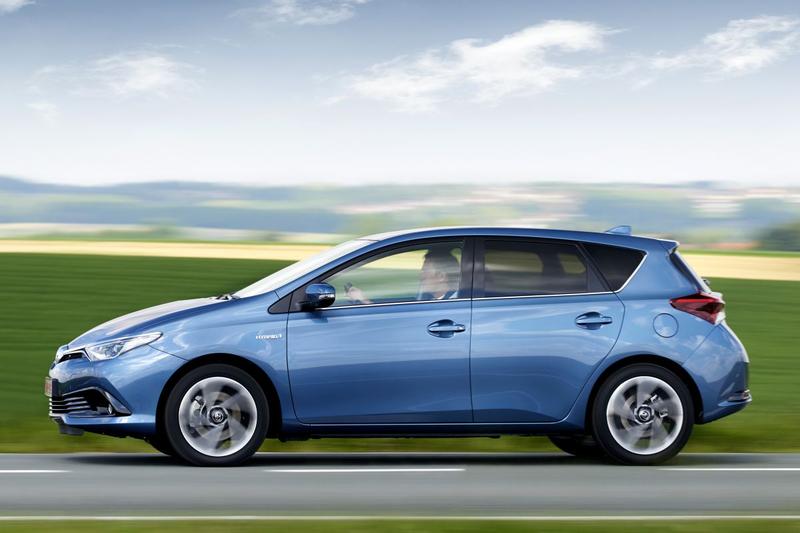 | | |
| --- | --- |
| Price | Starting from £8,695 |
| Body type | Hatchback |
| Gearbox type | Automatic |
| Doors | 3, 5 |
| Seats | 5 |
| Fuel | Hybrid petrol |
The Auris hybrid version is one of the best-selling hatchbacks in the UK, accounting for three-quarters of sales. This popularity is well-deserved, making it an excellent choice for drivers who don't require anything fancy or luxurious, particularly families looking for an optimal model in terms of both finances and practicality.
The Auris has a similar setup to the Prius - one powertrain option with a petrol engine (1.8 liters), an electric motor (650v), and nickel-metal-hydride battery packs. Together, they produce up to 134 hp. Acceleration has been improved following revisions to aerodynamics and car weight.
Newer versions have a fuel economy of 74.3 mpg and emissions of 87 g/km of CO2. However, on the used market, you're likely to see models with earlier metrics - 70.6 mpg and 93 g/km. Even the petrol Auris was known for its smooth and relaxed driving, even more so as a hybrid. It's also particularly quiet, even when the engine cuts in and the car shifts into gear. The only downsides are extremely sharp brakes and a lack of versatility.
3. Suzuki Ignis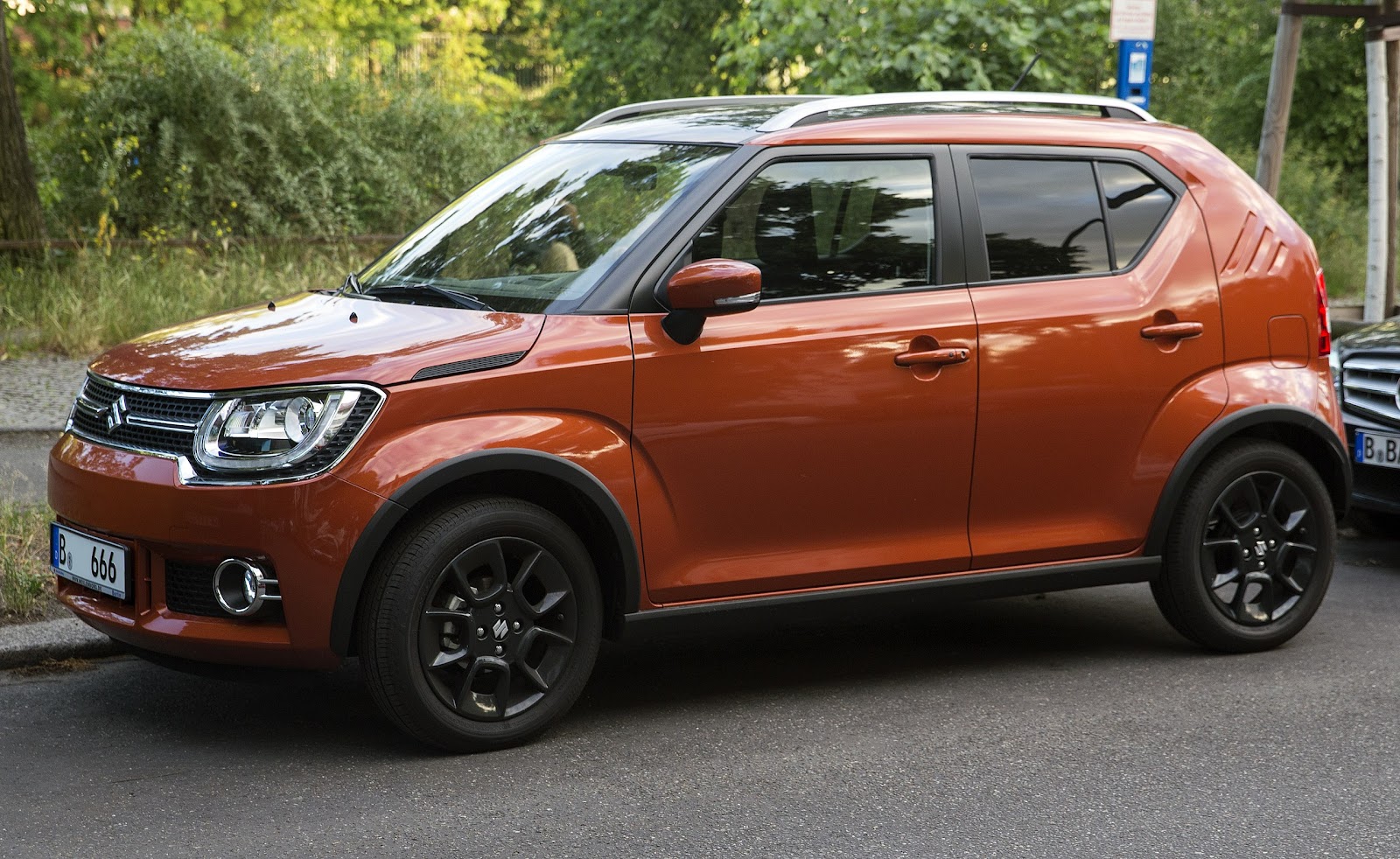 | | |
| --- | --- |
| Price | Starting from £8,399 |
| Body type | Hatchback |
| Gearbox type | Manual, automatic |
| Doors | 5 |
| Seats | 5 |
| Fuel | Hybrid petrol, hybrid diesel |
The Ignis is a retro-style throwback to the tiny SC100 Whizzkid sold in the 1970s. However, the retro design cues are complemented by a fully contemporary package under the hood. The practicality and spaciousness may come as a surprise, given the reduced weight of under 900 kg. The ultralight base of the car also translates to easier acceleration.
The car is powered by a 1.2-liter petrol engine accompanied by mild hybrid technology exclusive to Suzuki. The biggest downside is the power produced by the engine - 82 hp. The other engine system comprises a 1.3-liter MJD diesel engine and a small electric motor (12v). There aren't many diesel-electric hybrids, so this could be an opportunity to purchase one. Both hybrid engines produce around 110 g/km in CO2 emissions.
A second-hand Suzuki Ignis is a good value. For a car its size, it offers a surprising amount of interior space and practicality. The retro design may be divisive, but it's undeniable that it stands out on the road. The hybrid engine options are also a plus, providing fuel efficiency and lower emissions.
4. Lexus CT 200h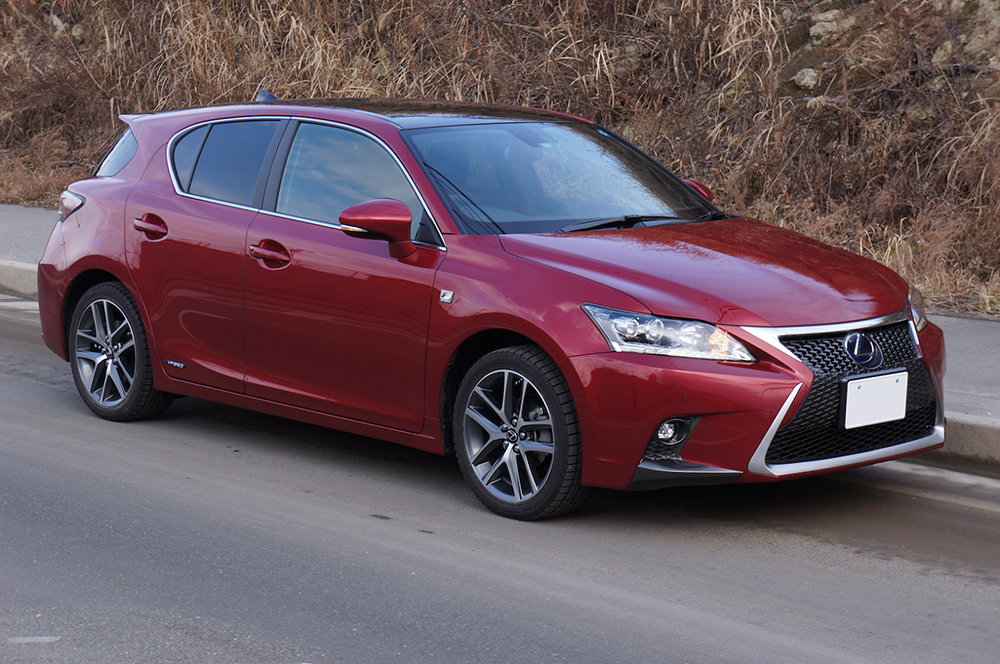 | | |
| --- | --- |
| Price | Starting from £8,995 |
| Body type | Hatchback |
| Gearbox type | Manual, automatic |
| Doors | 5 |
| Seats | 5 |
| Fuel | Hybrid petrol |
The CT 200h is a premium hatch, the smallest model in the Lexus line. If you can afford to stretch your budget to cover facelifted models, you'll be driving one of the best hybrids on the UK roads. But even older models are well-made, reliable, and crammed with equipment, so you wouldn't be giving up much.
The car features a 1.8-litre petrol engine and an electric motor, generating an impressive combined output of 134 hp. However, a weaker engine wouldn't be able to push this 1,410-1,465 kg hatch in different trim levels.
The CT 200h emits 94 g/km CO2 and returns 68.9 mpg, which are impressive, even record-breaking metrics for the class.
The spacious interior makes for comfortable longer trips, although the car becomes stiff right after moving past quiet low-speed cruising. The boot is a decent size and provides relatively easy loading. The CT's trump card is exceptional reliability, which is exactly what you want from a second-hand car.
5. Honda CR-Z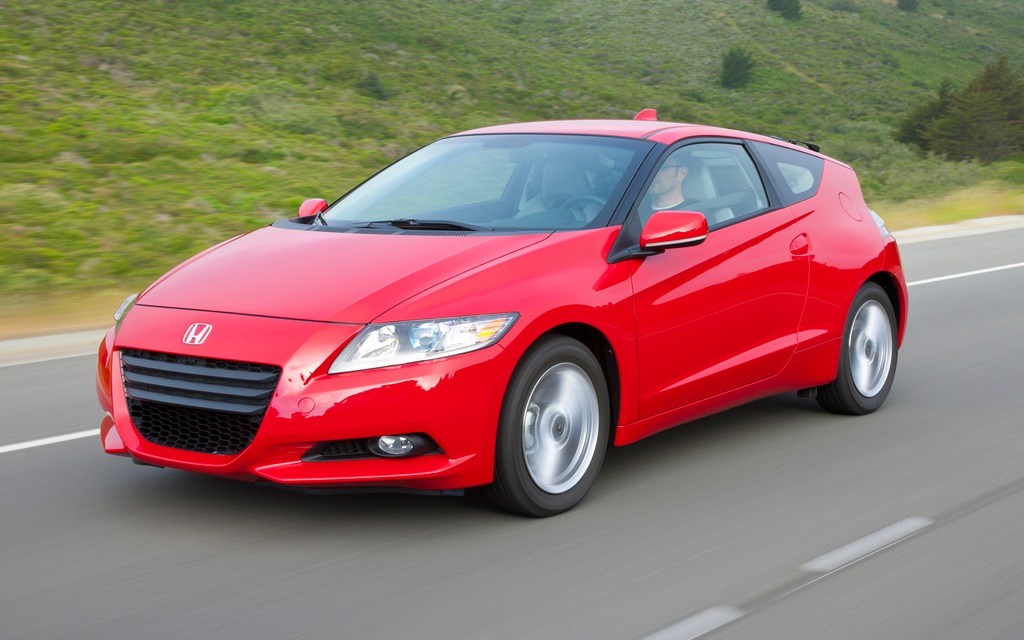 | | |
| --- | --- |
| Price | Starting from £6,000 |
| Body type | Coupe |
| Gearbox type | Manual, automatic |
| Doors | 3, 5 |
| Seats | 2, 4 |
| Fuel | Hybrid petrol |
The Honda CR-Z is often described as the first hybrid that is fun to drive. It takes inspiration from the sporty CR-X produced in the 1980s but puts a unique spin on it. A sports car with a purposeful exhaust note that uses green energy and saves fuel is not a combo you see often.
A surprising perk of buying exclusive, relatively unpopular cars: such models are mostly owned by enthusiasts. A hybrid Honda CR-Z is likely kept by an eco-conscious enthusiast that keeps it in good condition and under a decent mileage limit. This reduces your risk of buying a dud.
The car's claim to fame is a 1.5-litre petrol engine and 15-kw electric motor with a combined output of 130 hp. The official fuel consumption for the Sport trim is 56.5 mpg and 54.3 mpg for the GT. But it ultimately depends on your driving style.
As you can guess, the CR-Z performs great on a twisting country road or a motorway but features limited practicality for family-oriented drivers. Also, no one has even chosen a CR-Z for rear legroom, which is non-existent in a two-seater and basically non-existent in a four-seater.
6. Suzuki Swift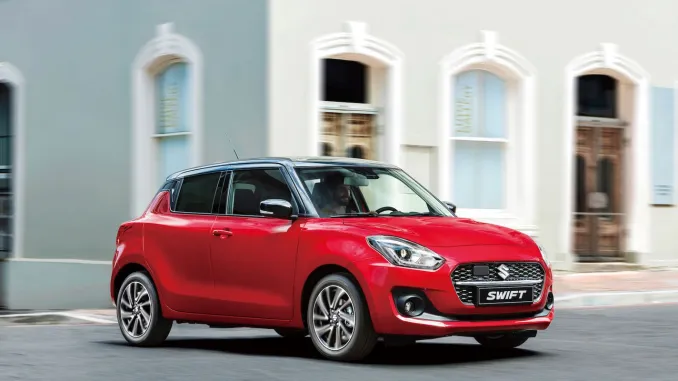 | | |
| --- | --- |
| Price | Starting from £7,899 |
| Body type | Hatchback |
| Gearbox type | Manual, automatic |
| Doors | 5 |
| Seats | 5 |
| Fuel | Hybrid petrol |
The used hybrid Swifts you see on the car market are likely the fifth-generation version of the original model from the 1980s. But the modern version wasn't redone completely but rather modified into a talented supermini. What you get is affordable, dependable, and charming transport.
The Suzuki Swift comes with a 1.2-litre petrol engine that has been hybridised to chip away at its fuel consumption in the background. As a result, the drive is powered by a timid 82 hp. But keep in mind that the car weighs less than a tonne.
The CO2 emissions shouldn't go higher than 115 g/km, and the average fuel economy amounts to 55.3 mpg.
The design choices aren't posh or exciting, especially the fabrics and plastics. But everything else - the boot space, passenger space, and a good composure on poorly-surfaced roads - make up for the unpretentious looks.
7. Honda Jazz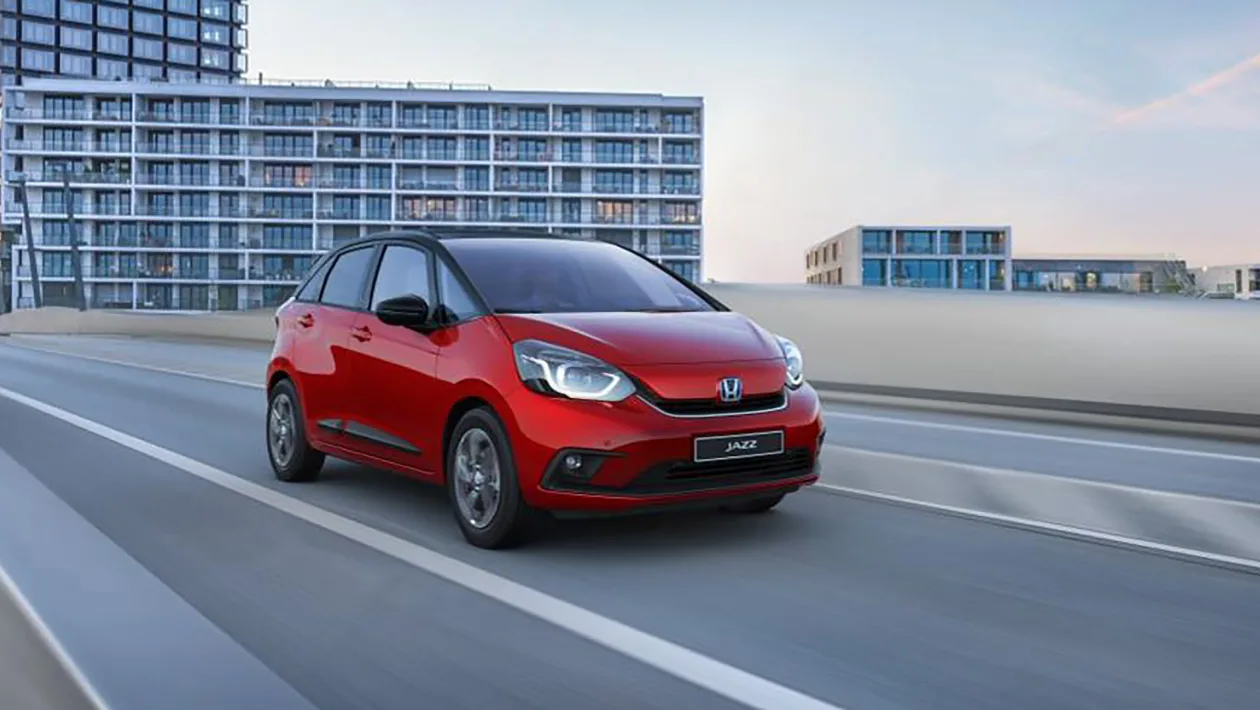 | | |
| --- | --- |
| Price | Starting from £8,249 |
| Body type | Hatchback |
| Gearbox type | Manual, automatic |
| Doors | 5 |
| Seats | 5 |
| Fuel | Hybrid petrol, hybrid diesel |
The Honda Jazz is a balanced combination of the best qualities in a car - practical and spacious, easy to use and inexpensive to maintain, powerful yet small. But it's only fair to mention the downsides, too - it's not good potholes and broken surfaces and has a boomy engine noise.
The car is equipped with a 1.5-litre petrol engine, two electric motors, and a lithium-ion battery pack. The combined output produces a generous 109 hp. The battery power is used in town, the petrol engine - on the motorway.
The claimed emissions are 134 g/km (manual) and 125 g/km (automatic CVT). As for fuel consumption, the Jazz is generally efficient, with 51.13 -5.23 mpg depending on the variants.
The steering is light, so you'll enjoy city driving (and less so the motorway). As you go inside, you'll see plenty of front space, headroom, and shoulder room. The rear seats can fit two adults comfortably or three adults tightly. The boot is decent but not bigger than in most rivals.
8. Toyota Prius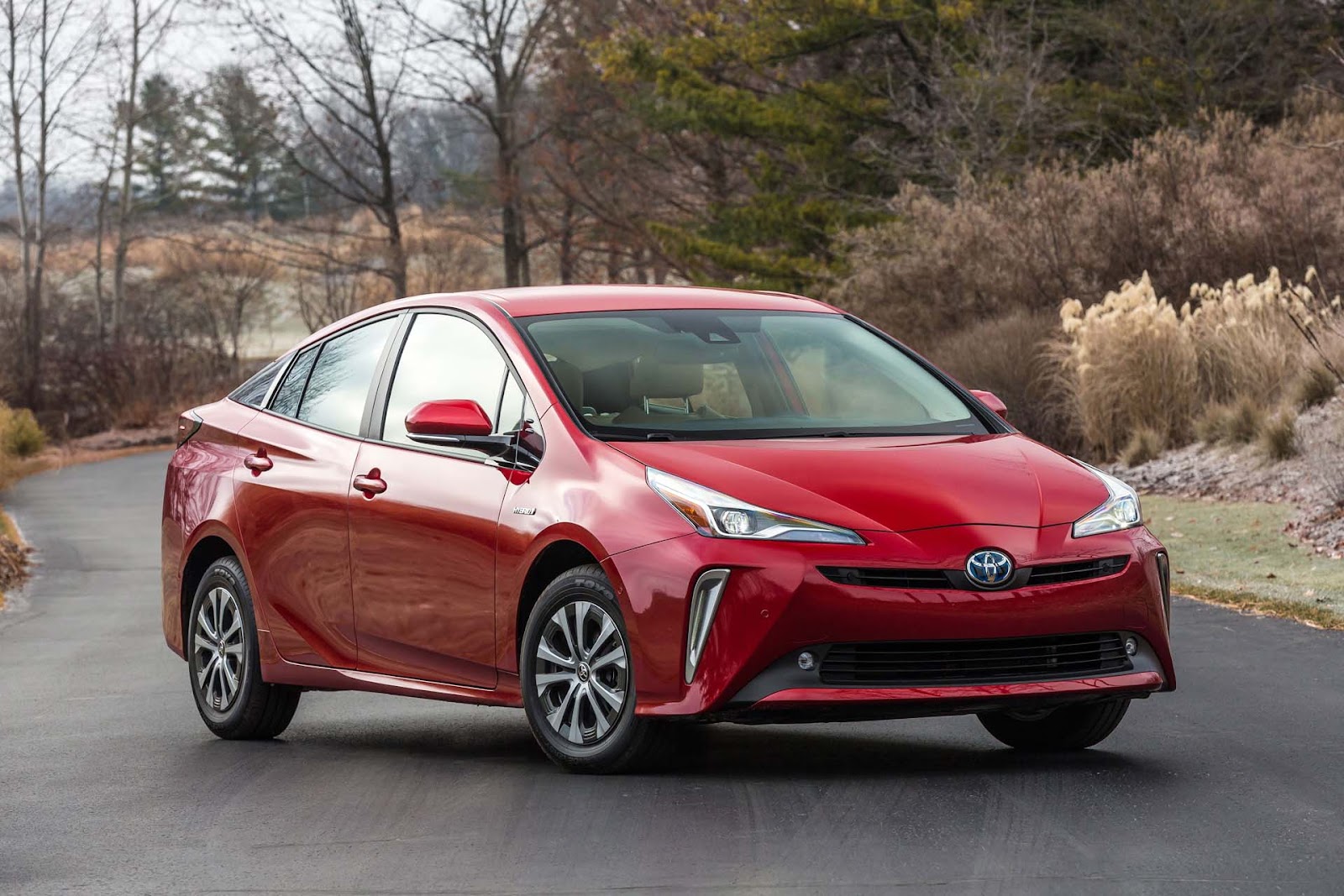 | | |
| --- | --- |
| Price | Starting from £6,250 |
| Body type | Hatchback |
| Gearbox type | Manual, automatic |
| Doors | 5 |
| Seats | 5 |
| Fuel | Hybrid petrol |
One of the pioneers in mild hybrids and electric vehicles, the Prius captured the attention of eco-conscious drivers back when it was launched. Up to this day, Toyota continues to produce some of the best hybrids, famous for low running costs, a relaxed drive on urban roads as well as the motorway, and modest looks.
The most popular hybrid in the world, the Prius, is fitted with a 1.8-litre petrol engine generating 97 hp and an electric motor generating 71 hp. The silent electric power makes it possible to travel short distances of 20-25 miles.
Most Prius owners are sensible and pragmatic. With 58 mpg in the city, 53 mpg on the interstate, and 56 mpg combined, you will join the club, too. CO2 emissions start from a low threshold of 94 g/km.
The car doesn't offer the most invigorating drive, but it's still enjoyable, and you'll get used to the lack of noise very quickly. For a five-door hatchback, the cabin feels light and spacious. And the wide-opening back doors create easy access to the back seats.
9. Lexus GS450h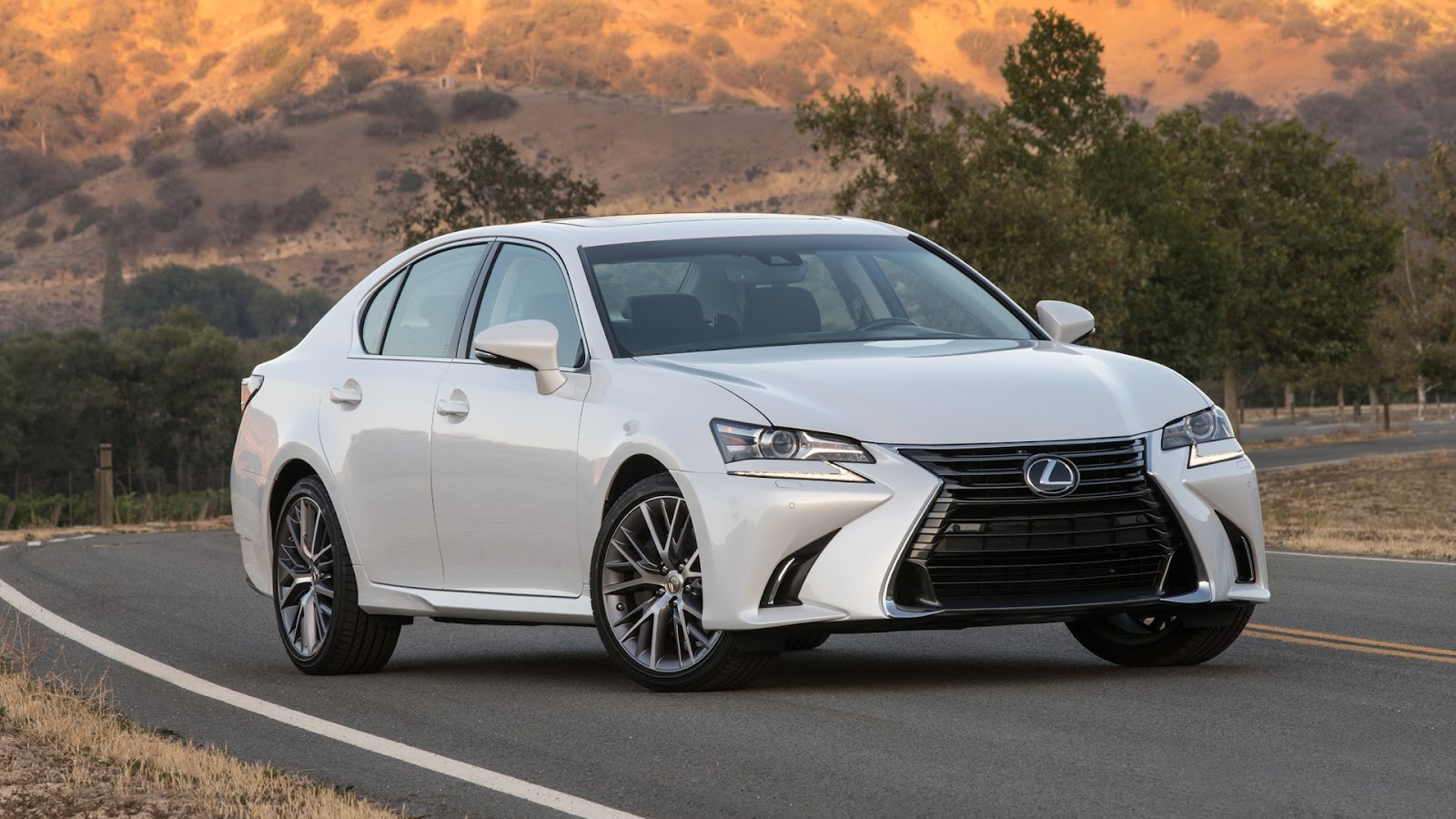 | | |
| --- | --- |
| Price | Starting from £7,999 |
| Body type | Sedan |
| Gearbox type | Manual, automatic |
| Doors | 4 |
| Seats | 5 |
| Fuel | Hybrid petrol |
Lexus hybrids have a different flavour to them. Notably, its biggest differentiators from Toyota's products are performance and luxury, and the GS450h is no exception.
Speaking of performance, the GS450 is powered by a robust engine system generating an impressive 340 hp. A 3.5-litre V6 engine is responsible for 352 Nm torque, and the electric motor with an output of 275 Nm offers substantial torque on top of it. Such a combination brings in the level of acceleration you'd expect from a more powerful V8 engine but with better fuel economy.
The claimed fuel consumption figures average 45.6 mpg, but it comes down to around 36 mpg in real conditions. The level of CO2 emissions is noticeably higher than other hybrids on the list - 186 g/km.
On the move, the GS450h is energetic, albeit not to the extent of a sports car. As you take a seat inside, you'll notice the abundant legroom (front and back) and shoulder room, which all make for a comfortable interior. But six-footers need to consider the limited headroom.
10. Volvo V60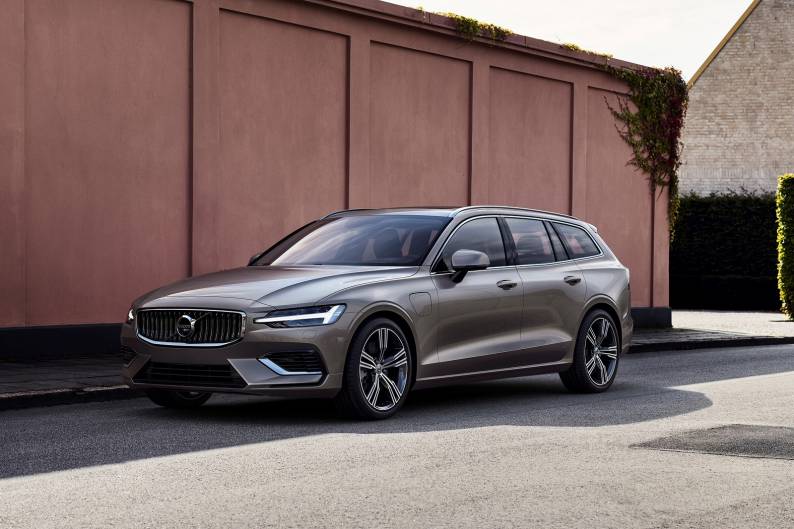 | | |
| --- | --- |
| Price | Starting from £8,490 |
| Body type | Estate, crossover |
| Gearbox type | Manual, automatic |
| Doors | 4 |
| Seats | 5 |
| Fuel | Hybrid diesel |
The V60 is aimed at active families who need lots of carrying capacity, advanced safety features, and punchy mid-range performance. At the same time, the car is pleasing to the eye and makes for a well-rounded, frugal drive.
The engines are available in two versions: a T6 producing 253 hp and a T8 producing 318 hp. Both are comprised of a turbocharged 2.0-litre engine and an electric motor. The bigger batteries ensure a 32-mile on electricity alone. While it won't be enough for longer journeys, it's more than enough for commutes and chores around town throughout the week. a
The official combined fuel economy is 155 mpg, impressive for the power output. And the CO2 emissions are claimed at 48 g/km.
The V60's interior is lavish in terms of its driver-oriented details and made of durable materials that should hold up well in used examples. The boot space is decent, but the real showstopper is the legroom.
11. Mitsubishi Outlander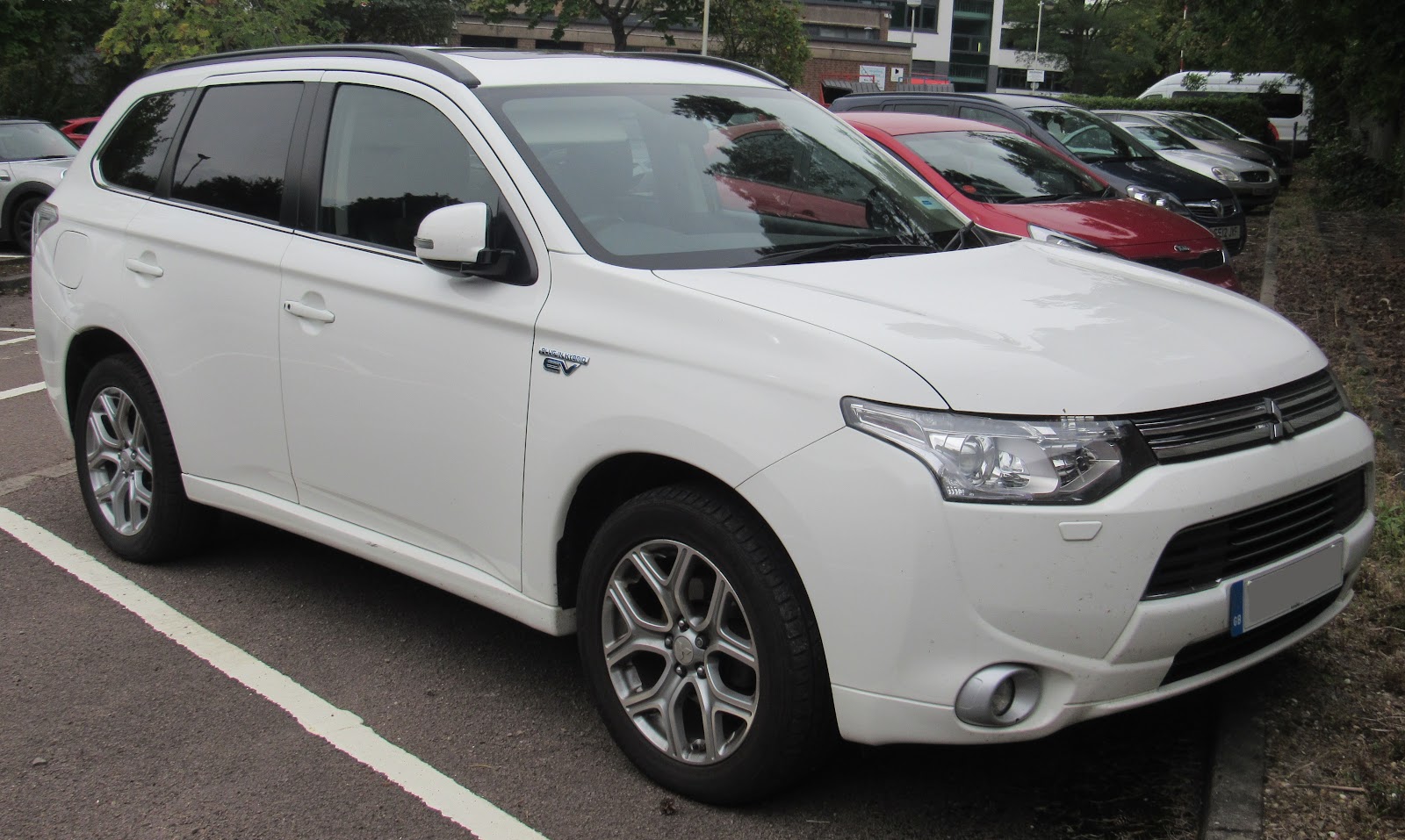 | | |
| --- | --- |
| Price | Starting from £6,995 |
| Body type | SUV |
| Gearbox type | Manual, automatic |
| Doors | 5 |
| Seats | 5 |
| Fuel | Hybrid petrol |
The Outlander is the only SUV on the list because roomy, budget-friendly hybrid cars with off-road capabilities are actually rare finds.
You can choose between two engine systems - a 2.0-litre engine (older models) and a 2.4-litre engine (newer models); both are supplemented with two electric motors. The electric power is enough for 30 miles, which is aimed at city driving. The internal combustion engine kicks in during more extreme driving conditions.
The Mitsubishi Outlander is responsible for a low carbon dioxide emission level of 43 g/km and earns a 24 mpg (city) and 30 mpg (highway) fuel economy.
The model lives up to its SUV appearance thanks to grippy 4WD traction and a dependable build. Overall, it's perfect for families looking for a competent, versatile car that doesn't break the bank.
Used Mitsubishi Outlander
12. Peugeot 3008 e-hdi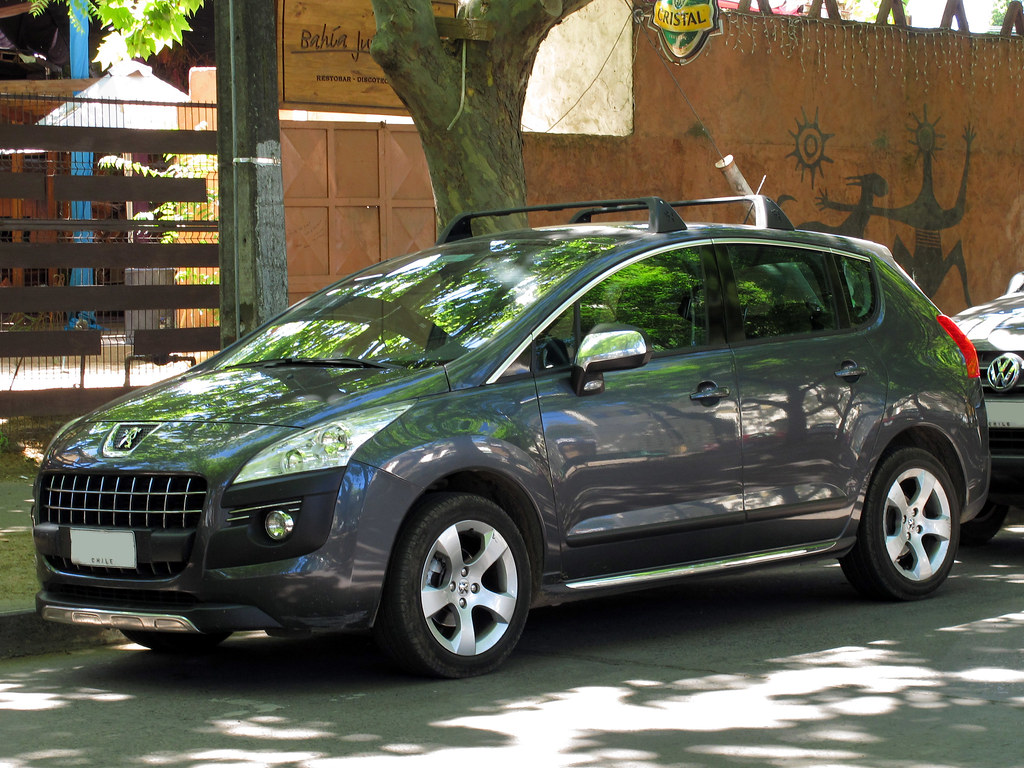 | | |
| --- | --- |
| Price | Starting from £8,149 |
| Body type | Crossover |
| Gearbox type | Manual, automatic |
| Doors | 5 |
| Seats | 5 |
| Fuel | Hybrid petrol, hybrid diesel |
Peugeot 3008 e-hdi is a family-sized crossover that merges the high-riding stance of an SUV and the practicality of an MPV. A refreshed engine line-up and well-thought-out interior also make these hybrid models a worthwhile consideration.
The hybrid petrol engine pairs a 1.6-litre turbocharged petrol engine (197 hp) and two electric motors (108 hp each). The other version has a 2-litre HDi diesel engine (164 hp) combined with one electric motor (37 hp).
The level of CO2 emissions is kept on par with many competitors at 85 g/km for petrol and 99 g/km for diesel, but some of the rivals on the list scored better. The fuel economy is claimed at around 48 mpg for petrol and 74.4 mpg for diesel.
The 3008 e-hdi offers a commanding view ahead and even great visibility in the back. The space up front is proper, but the rear is far from class-leading.
Final words: Used hybrid cars for sale under £10,000
In recent years, more used hybrids are making it to the market. And luckily for prospective buyers, you can now buy great models at affordable prices without having to compromise on condition or mileage. If some cars on the list caught your attention, it's time to take action.
To compare the market and match your funding needs with great lenders, you need a credit broker like Carplus. In just a few simple steps, you'll move from researching to getting an instant car finance decision. Find your car today!
Your monthly payment
£327.74
| | |
| --- | --- |
| Total charge of credit | £3,731.35 |
| Total amount payable | £15,731.35 |
Apply now for your personalised, no-obligation quote