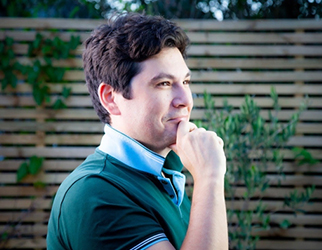 Roman Danaev
A vehicle log book (or V5C) is the type of document that will stay at the bottom of a drawer 99% of the time. But when it's time to sell your car, you'll be glad you kept a hold of it. Besides, there are other situations where you need a log book, so don't put it away too far.
Today we'll cover everything you need to know about log books: what they look like, when you need them, how to get them, how to change their details, etc. There is tons of information to learn, so let's get started!
What is a vehicle log book (V5C) and what does it look like?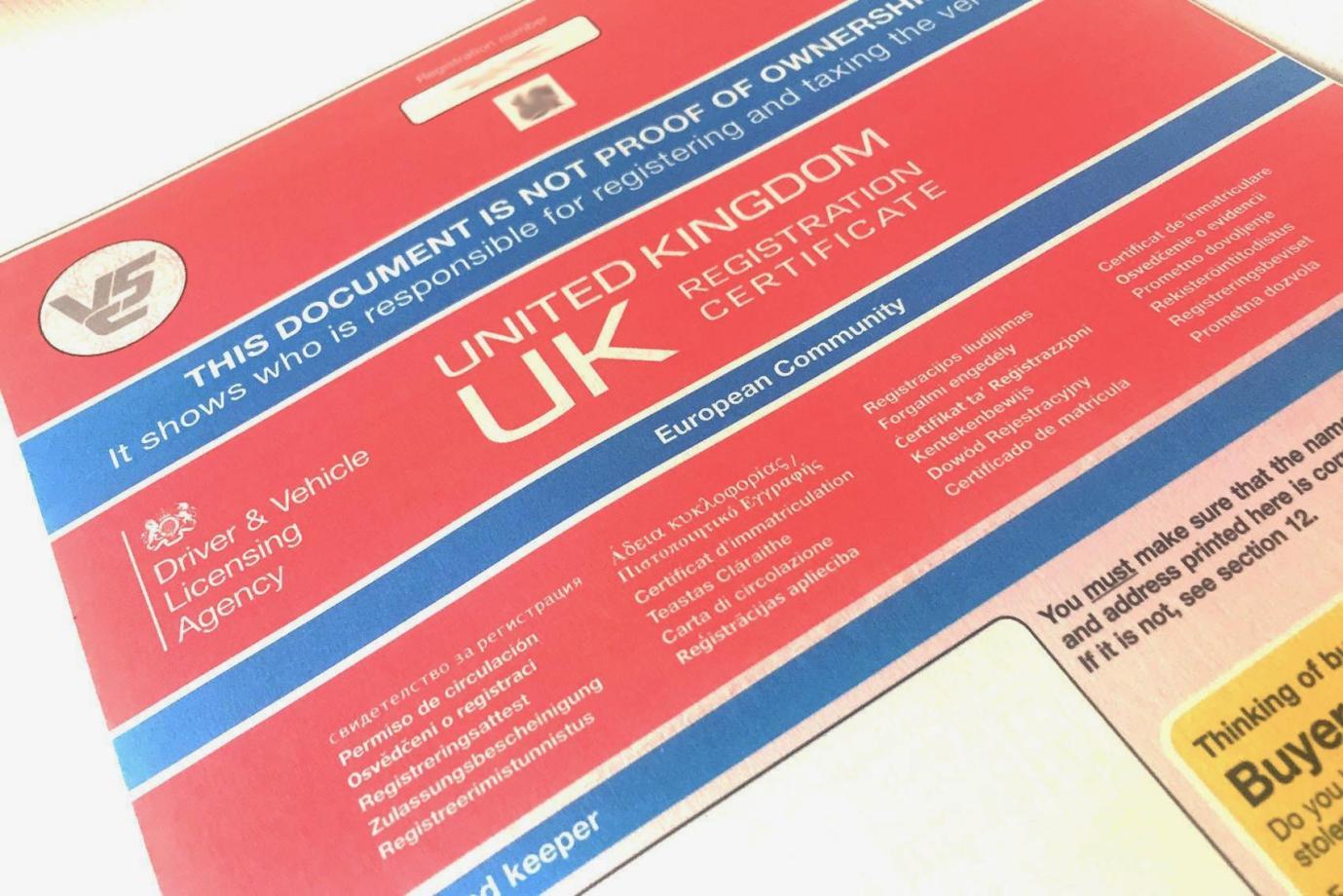 A vehicle log book - also called V5C registration certificate or just V5C/V5 - is a paper document issued by the DVLA (Driver and Vehicle Licensing Authority). It contains a range of vital information about the vehicle and its registered keeper, such as registration and technical details about the vehicle and personal information about who drives it.
Why do you need a log book?
A log book provides the information that makes the car identifiable. If anything drastic changes about the car, the registered keeper is required to update it by law. This means you can always tell if the person is being honest about the car and whether there have been any unaccounted modifications.
We'll cover scenarios that require a V5C later on.
What's included in a v5c document?

A vehicle log book is a very detailed document with multiple sections that specify (not a full list)
Registration number
Date of registration
VIN/chassis/frame number
Make, model (type, variant, version)
Body type (maximum permissible mass, capacity)
Taxation class
Vehicle category
Exhaust emissions (CO2, CO, HC, NOx, HC+NOx, particulates)
Engine (number, size, speed)
Colour
Sound level
What does registered keeper mean?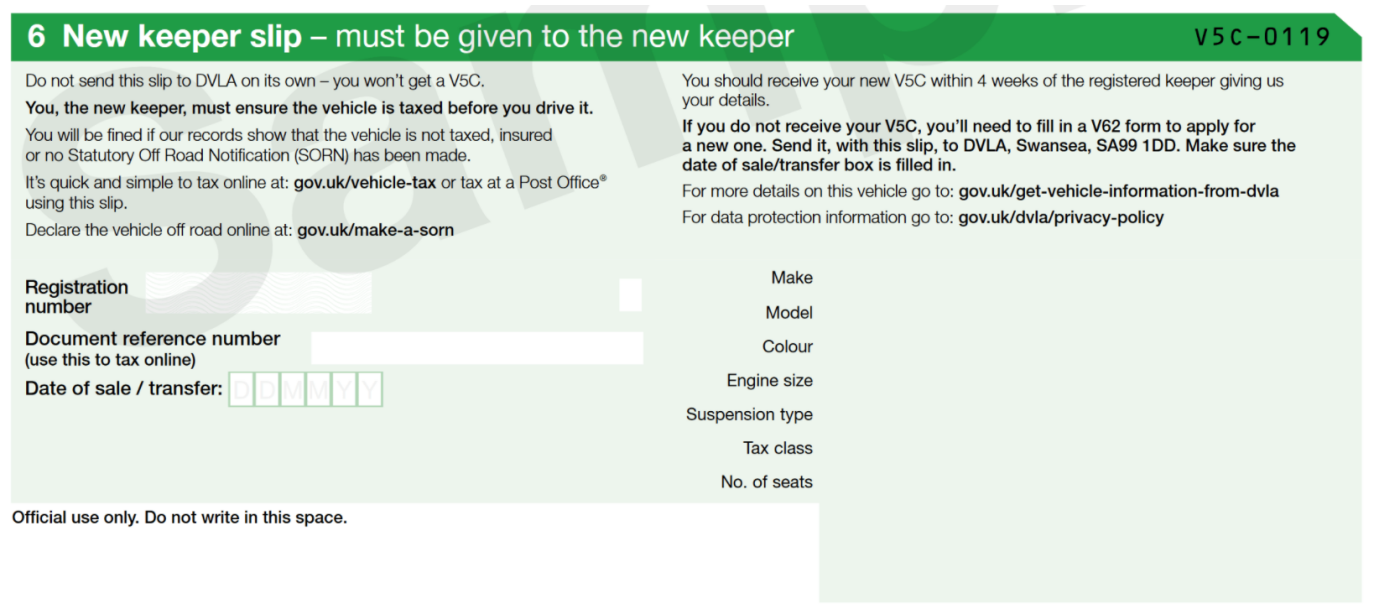 A registered keeper is the main user of the car. They are responsible for registering, taxing, insuring, and paying fines. It is the primary contact person for the DVLA, and all correspondence is sent to their address.
Registered keeper vs owner
The registered keeper and the owner of the car can be the same person; in fact, it's more common. But there are occasions where they might differ. We can give you two examples that we come across very often.
First example
The first is when the car is owned by the company and driven by an employee. Legally, the employee cannot own the corporate car. But the documentation should reflect who drives the car (obviously, it's not a legal body).
Second example
Another example is when the car is financed. The lending company owns the car, but it's the lendee who drives the car and pays tax and insurance for it.
How do I know my log book is legit?
In order to check whether your log book is legit or not, you have to follow these steps. If you do this first, it will save you a ton of time, money and nerves:
See if there is a DVLA watermark: you should see a DVLA watermark when you hold the registration book up to the light.
You should check to make sure the name in the registered owner field matches the name of the person who sold you the vehicle.
Logbook entries for the car must be at the same address as the name of the person who sold it to you.
The logbook's serial number should be examined, because there may be a stolen V5C - if this is the case, you should contact the police.
Verify that the logbook contains the vehicle identification number and engine number.
When you need a vehicle log book
We've talked about the general purpose of a log book. Now let's move on to specific situations when you need to make entries to it even if you haven't made a significant change to the appearance or its inner workings.
Selling a car
If you're selling your car, you'll be responsible for updating the log book (see other responsibilities here).
The paper document can be shown to potential buyers so that they can quickly chan it and cross-check essential data. However, do not share your document reference number or send pictures of your V5C. This exposes you to a risk of fraudulent copies.
Scrapping a car
If your car has been scrapped or written off, you need to tell the driving authority. First, you'll need the log book to take the car to an ATF (Authorised Treatment Facility). Afterwards, you'll need the log book info to contact the DVLA. Make sure to keep a Certificate of Destruction to prove that the car has indeed been destroyed.
Registering an off-road vehicle
If you'll only drive your car on private land or keep it in the garage - i.e., keep it off public roads - it's also something the DVLA needs to be informed of. You will receive the SORN document (Statutory Off-Road Notification).
Bear in mind that if you only took a few parts of the vehicle to keep in your garage and got rid of the rest, it's classified as scrapped, not off-road.
Taxing a car
To pay a road tax for your vehicle, you need the reference number from your V5C, which must be in your name. You can apply:
Online (all the steps are detailed at the link)
By phone (DVLA vehicle tax service: 0300 123 4321, 24-hour service)
At a post office (take the payment or provide your bank or building society account details to set up a Direct Debit)
How to fill out a vehicle log book in the uk
As with most documentation in the UK, a V5 can be filled on the government website or sent as a paper application by post. You can probably guess which one takes a longer time.
Online
If you're the one buying the car, the information is usually filled out by the dealer or private seller. But you can also fill it out yourself on this page.
Click 'Start now' and fill out a small questionnaire to confirm your status. Then/ you'll be asked to provide your trader details (name, post code, etc.). The new keeper (you or another person) will get an instant email confirmation and receive a new log book within five working days from registration.
By post
Download an application form (V62) here and fill it in by hand.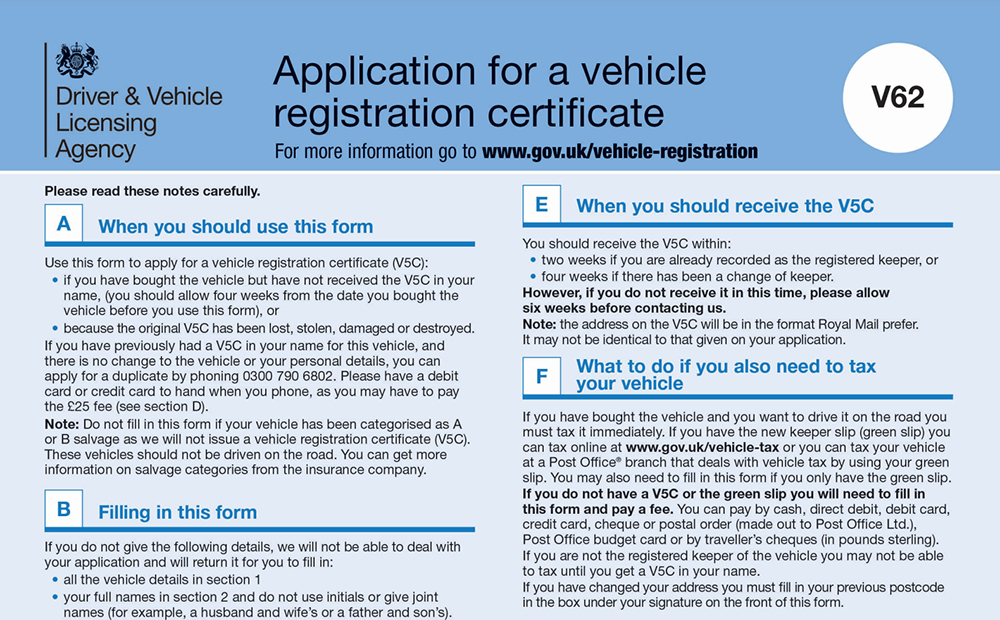 Then, post it to this address:
DVLA
Swansea
SA99 1BD
The buyer will generally receive a new V5C within two-four weeks. But as stated on the website, the deliveries may be delayed for various reasons.
What to do if your vehicle was scrapped or written off
If you know that the car has been scrapped or written off, inform the DVLA yourself. You can do it online on the portal (available from 7 a.m. to 7 p.m.). If you can't use the service or some of the details on the vehicle log book are wrong, you can apply by post.
If you want to find out whether the car has been scrapped or written off, request this information on the online portal. If you do it by post, the DVLA will send you a letter within four weeks. If you didn't receive the letter, call 0300 790 6802.
As soon as the confirmation comes in, you (or the current registered owner) will no longer be responsible for the vehicle.
What to do if you've lost your V5C log book
Whether you lost, misplaced or never had a V5C in the first place, get on it as soon as possible. Below are your options and what to do in each situation.
Apply by phone
The DVLA Vehicle Enquiries is available from 8 a.m. to 8 p.m. (Monday to Friday) and from 8 a.m. to 4 p.m. on Saturdays:
0300 790 6802
Bear in mind that the calls are charged: up to 10p per minute when you call from a landline and 3p-40p when you call from a mobile phone. There's no need to overthink this or prepare - the specialists will give the instructions.
Apply by post
Conveniently, the procedure is the same as when you apply for a V5 for the first time. Send the V62 application form to:
DVLA
Swansea
SA99 1BD
It is similar to filling out a log book for the first time. But in this case, you also need to send a cheque or postal order for £25 made payable to DVLA, Swansea.
If you bought a car without a log book
Even if you agree to a car without a log book, manage the process with due diligence and carry out a vehicle history check to confirm there is nothing dodgy about the car. Also, confirm that the seller is the individual who actually owns the vehicle.
Then, apply online or by post (described above).
Have this information ready:
Name and post code registered on the vehicle log book
VRM (Vehicle Registration Number)
VIN (Vehicle Identification Number)
If you fail to provide this info, the DVLA will refuse the application.
Taxing a car without a V5C log book
You must apply for a V5C and tax your vehicle online, by phone, or at a post office. Alternatively, you can tax your car if you have a V11 reminder, a V62 application, or a green 'new keeper' slip. You may also need a valid MOT test certificate.
Before paying, check up-to-date vehicle tax information here.
How to replace a V5C document
The procedure is basically the same as the one described in the section about losing your log book . The easiest way is to apply online, but the service is only available if you're already the registered keeper. You should receive the replacement in 5 working days to the address that the DVLA has on record.
The replacement procedure implies duplicating the log book without any changes. If you need to change your details or have already sent your application to change them, follow a different procedure described earlier.
You can also apply by phone; you cannot apply by post for obvious reasons (you don't have the log book to post.
The replacement costs £25 and is not refundable.
How to check the authenticity of a vehicle log book
Look at the following:
Watermark - Hold up the log book to the light. You should see a "DVL" watermark (not "DVLA") at the top left corner and at different other places on the document.
Serial number - If it is between BG8229501 to BG9999030 or BI2305501 to BI2800000, call the police because the document might have been stolen.
Printing quality and paper - A V5C is printed on an A3 sheet folded in half, making four printed A4 sides. The paper should be somewhat sturdy, and the colours should be opaque.
VIN and engine number - Compare the information on the log book and the number you see on the car. You can find VIN on a metal strip on the B-pillar of the car or underneath the carpet on the driver's side.
Address - View the vehicle at the address on the V5C.
How to get a log book: Steps to apply
If you didn't get a log book when you bought a car, it's one of the two reasons:
The car is brand new;
The previous owner didn't provide it to you.
If it's the first case, follow our instructions for filling out a vehicle log book (free). If it's the second, check out the steps for replacing a lost V5 (chargeable).
If you have an old reconstructed car that has never been registered with the DVLA, just apply for a new log book, not a replacement. Attach a V765 form signed, stamped, and approved by the relevant car enthusiasts club (for their make/type) from 'List of Vehicle Owners Clubs'.
How often should you update a V5C?
There is no schedule for updating your log book . If there is outdated information on it (address, name) or the vehicle is bought/sold, update it through the DVLA. Learn how to do it in the next section.
The one thing we haven't talked about yet is making changes to the car. If you change any of these things, the log book definitely needs to be updated:
Colour
Engine
Cylinder capacity
Fuel type
Chassis or bodyshell
Seating capacity
Weight (applicable for large vehicles)
Here are the changes that the DVLA needs to be informed of. They don't always make it to the log book , which is determined upon inspection:
Wheel plan
Body type (after conversion)
VIN, chassis number
How to change details on a V5C
You can update your address, name, or your address and name simultaneously for free. If any of these details change, make sure to tell the DVLA right away to avoid a fine of up to £1,000. The procedures are actually slightly different for each.
Address
Use this service to change your address on the vehicle log book (available from 7 a.m. to 8 p.m.).
Alternatively, you can write the new address in section 3 (new style log book) and send the document to the DVLA address. If you have an older style log book, write the new address in section 6.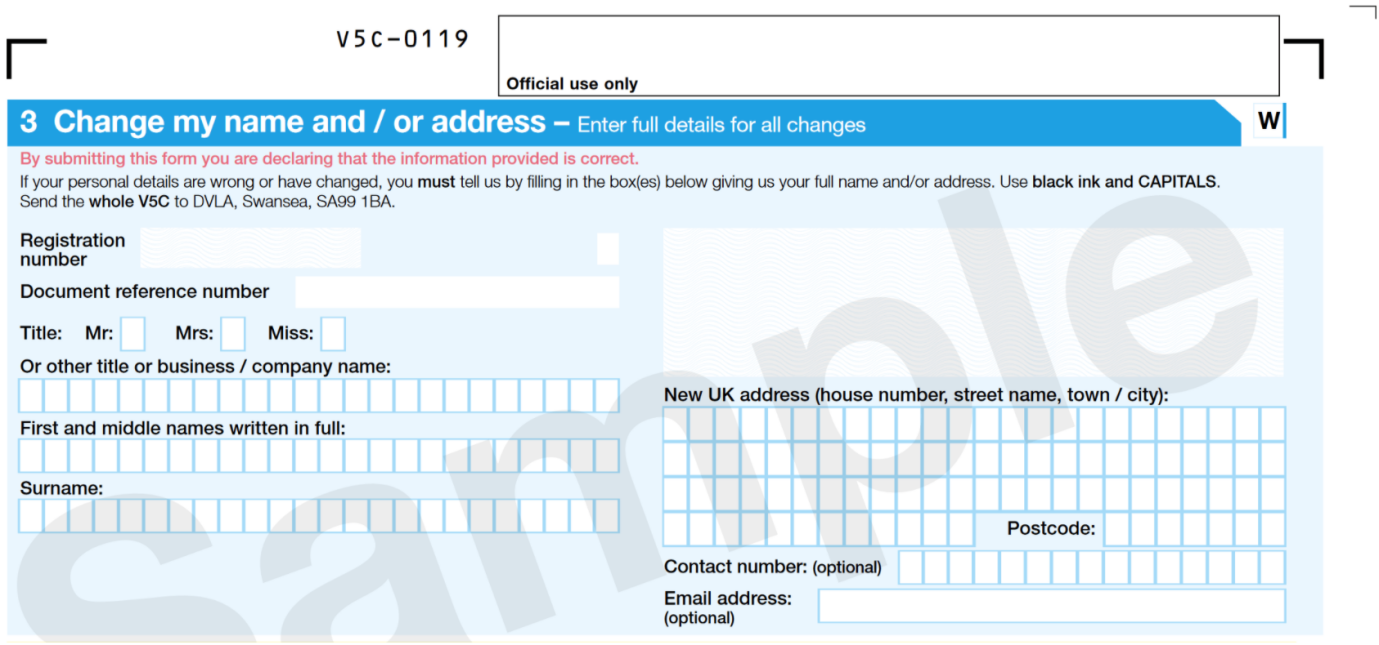 Name
The online service is not available for these cases. But the change of name can be done by post in the same way as you change addresses.
You normally need to provide proof of your name change unless you got married or divorced or your name was spelt incorrectly by mistake. Also, include a letter explaining why you need to change the name on the V5C. More information is available here.
Name and address
​​If you need to change your name and address at the same time, fill in the relevant sections of the log book and send it to the DVLA by post. Include proof of your name change and an explanation letter. If you're moving outside of the UK, you don't need to inform the DVLA, but you will need to register it in the country you're moving to.
How to transfer car ownership through a V5C
Whoever is the registered keeper of the car can transfer this title to another person. It doesn't have to be a result of a car sale. It can be a simple case of parents giving a car to their offspring.
Follow our instructions from the section above - filling out section 3 or 6 on the log book. The links for online applications are also available above. Make sure to tick the box that asks if the vehicle is changing keepers.
V5C explained: Takeaway and important facts
A V5C confirms who the 'registered keeper' of a vehicle is, which is not the same as proof of ownership. Still, it's an essential piece of documentation that contains vehicle details (make, model, colour, engine size, and chassis number), keeper's details, tax status, and other information.
If you spot any mistakes or some of the details change, you need to inform the DVLA. It actually makes the selling process and taxation safer and more reliable for all parties. What if you have a ringer on your hands? Think about this: Of the third of a million cars stolen each year in the UK, 120,000 are never recovered. So, be responsible and keep your car documentation updated.
Whenever you need help filling out, updating or replacing your vehicle log book, refer back to this guide! If you have queries that haven't been answered, you can contact the DVLA directly.