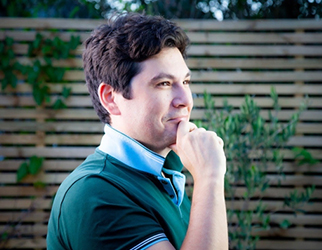 Roman Danaev
The practicality of the average family hatchback is undeniable. However, there's a special place in the market for the classic charm of compact saloons.
Normally, they're a favourite of business car drivers putting in a lot of motorway miles, but they also make great family cars — with ample room and impressive safety ratings that will keep everyone happy. Plus, these cars blend sleek design with luxury interiors and cutting-edge technology for an exceptional driving experience.
To make your search easier, we've compiled a list of the best small saloon cars available today. And when you're ready to make your purchase, Carplus will be there to help you buy the car you want on the best terms. Finance your perfect saloon with our tool!
1. BMW 5 Series Saloon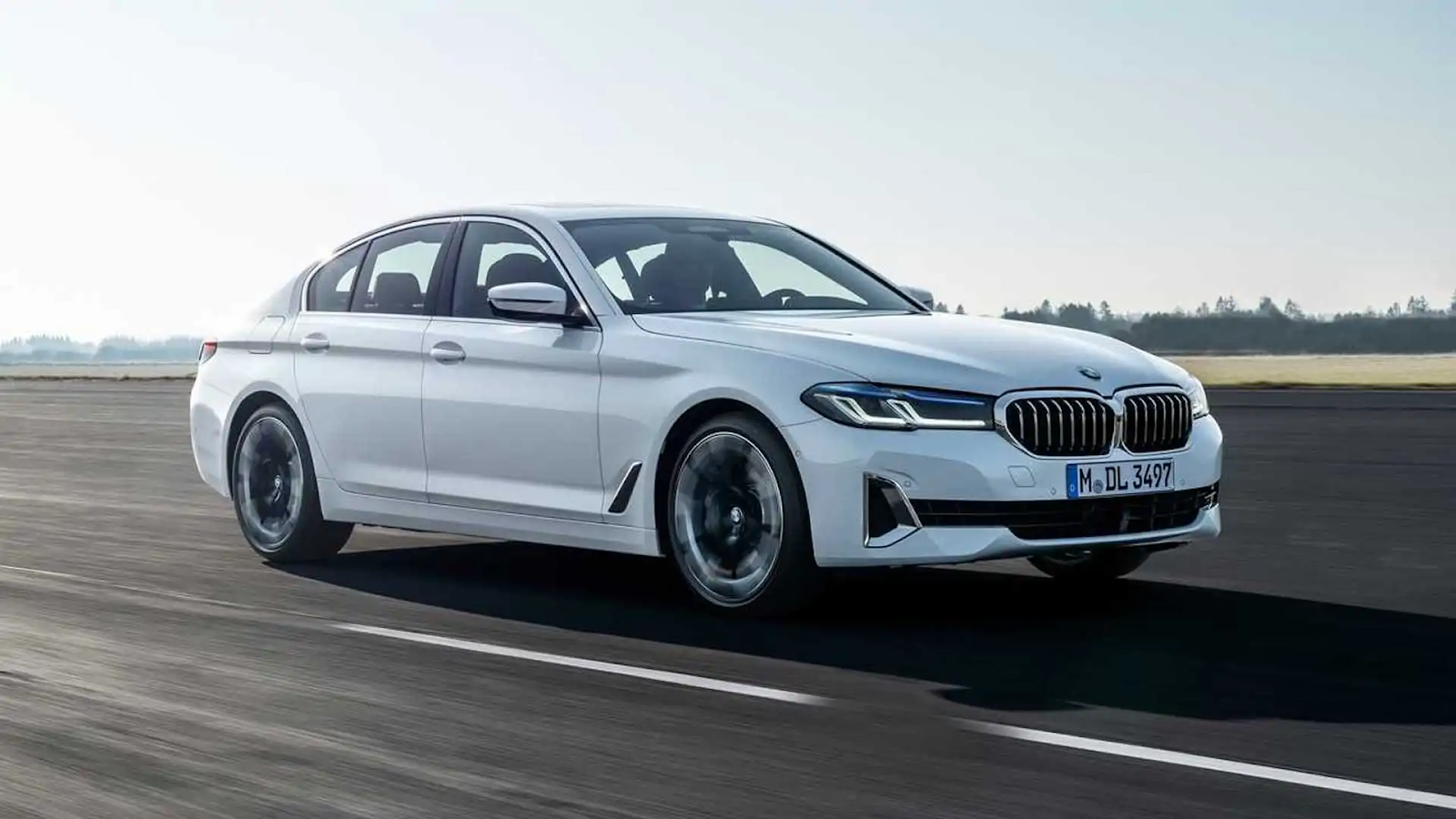 | | |
| --- | --- |
| Market price for a used model | From £14,900 |
| Body type | Saloon |
| Gearbox type | Manual, automatic |
| Doors | 4 |
| Seats | 5 |
| Fuel | Diesel, petrol, hybrid |
The BMW 5 Series saloon is a top choice in the compact saloon category, both for company car drivers and individuals seeking a premium and versatile vehicle.
The model offers a range of engine options, from the economical 520i to the powerful 540i for petrol lovers, and the popular 520d to the robust 530d for diesel enthusiasts. If you're eco-conscious, there's a plug-in hybrid option with the 530e iPerformance. And for those after more power, the four-wheel-drive 545e combines speed with a shorter electric range of 34 miles.
This BMW impresses with precise steering, well-controlled body lean, and exceptional balance. Combined, this makes it a joy to drive on winding roads. On the motorway, even the diesel engines maintain a refined hum, while wind and road noise are effectively subdued.
Inside, the 5 Series doesn't disappoint. The dashboard is precision-built and creates an open and spacious feel with controls slightly spaced out. The generous infotainment screen enhances clarity and usability. All occupants enjoy comfortable seating, although rear passengers may find legroom a tad limited.
2. Jaguar XE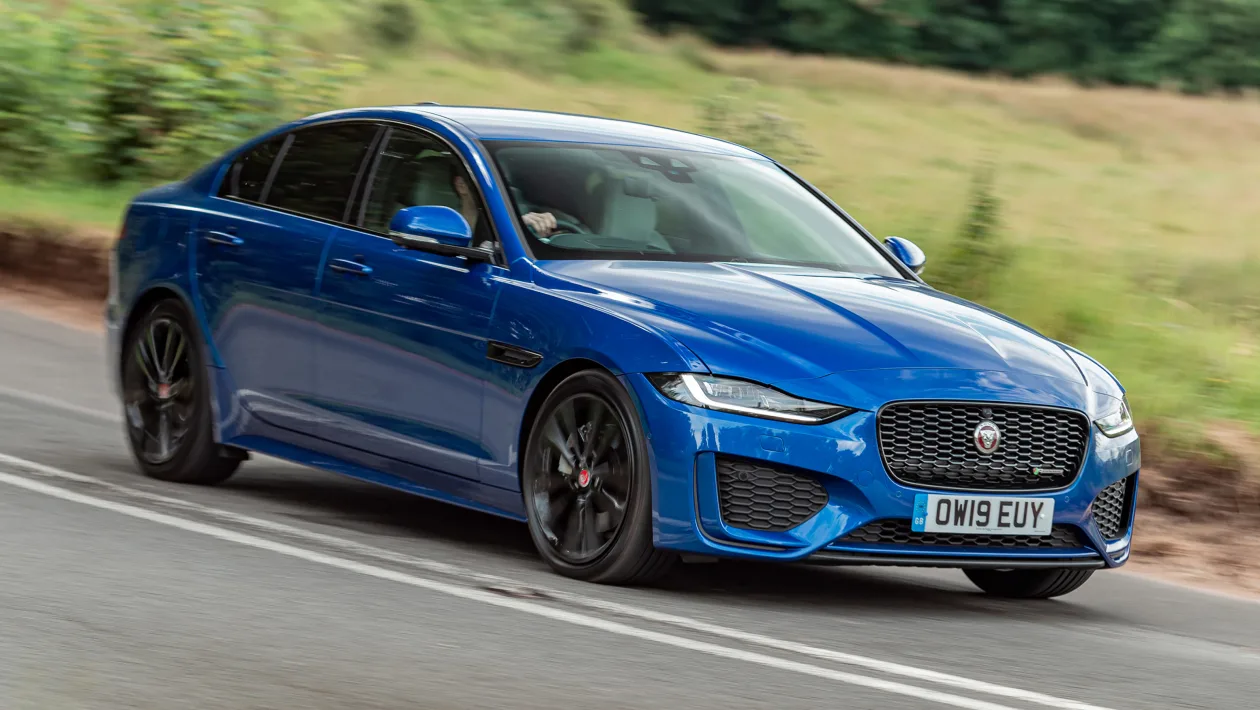 | | |
| --- | --- |
| Market price for a used model | From £16,200 |
| Body type | Saloon |
| Gearbox type | Manual, automatic |
| Doors | 4 |
| Seats | 5 |
| Fuel | Diesel, petrol |
With the Jaguar XE, you have options ranging from 197bhp to 375bhp. The line-up ensures there's an engine to match your desired level of performance. Notably, the supercharged 3.0-litre V6 version delivers an impressive 335bhp or 375bhp in newer models.
The Jaguar XE model range is straightforward. You can choose between the standard XE and the sportier R-Dynamic version, which mainly differs in terms of bumpers. Each of these variations comes in three trim levels: S, SE, and HSE.
When you hit the road, the XE excels with a refined demeanour on motorways. While the ride can be on the firmer side, it remains comfortable. The XE truly shines in the handling department, providing an engaging driving experience of a sports car.
Jaguars aren't generally renowned for top-tier interior materials. Still, the XE's cabin exudes a pleasant and consistently well-finished atmosphere. While rear space is competitive, it can pose a slight challenge for taller passengers. Anyway, this amount of interior space is par for the category of compact saloons.
3. Alfa Romeo Giulia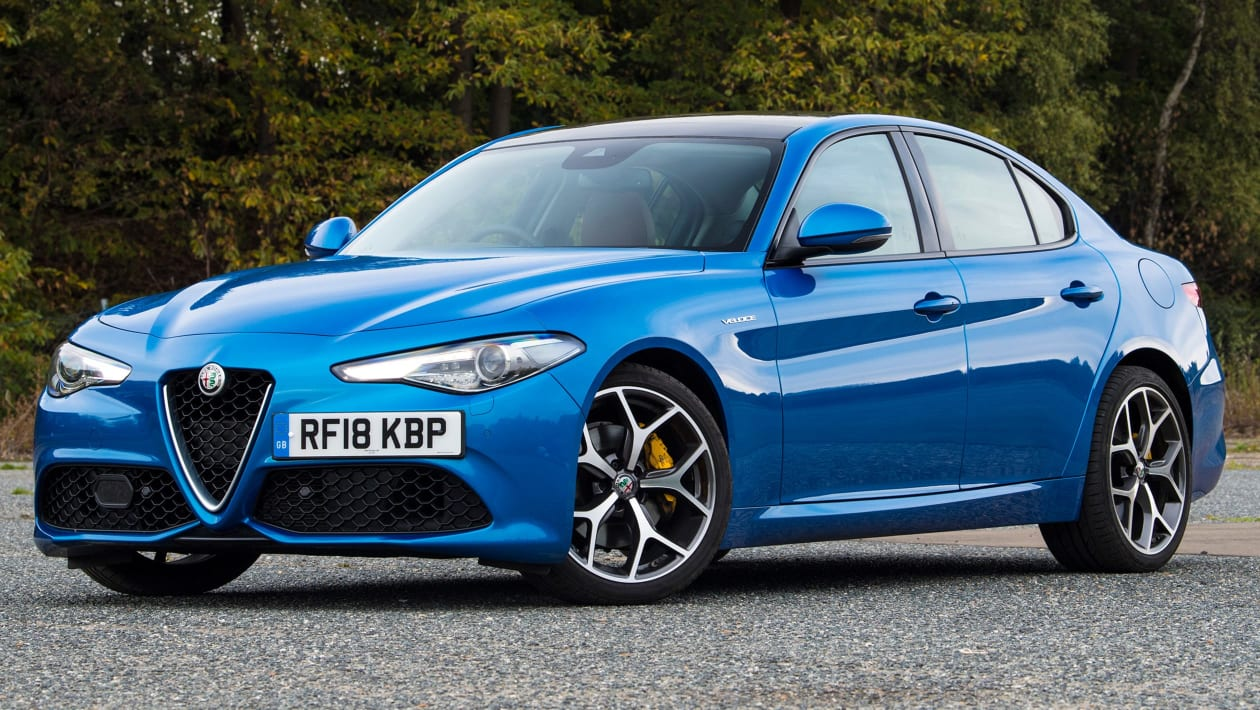 | | |
| --- | --- |
| Market price for a used model | From £21,900 |
| Body type | Saloon |
| Gearbox type | Automatic |
| Doors | 4 |
| Seats | 5 |
| Fuel | Diesel, petrol |
The Alfa Romeo Giulia is an upmarket saloon that doesn't compromise when it comes to quality and performance. The automaker spared no expense in developing the Giulia and committed to utilizing lightweight construction technology and advanced drivetrain options.
The Giulia line-up includes four trims: Giulia, Super, Speciale, and Veloce. You have a choice of petrol and diesel engines, each available in various power outputs. The range starts with a 197bhp 2.0-litre four-cylinder petrol engine and goes up to 276bhp. The diesel options feature a 2.2-litre four-cylinder engine with 148bhp or 177bhp. For those seeking ultimate performance, there's a 2.9-litre V6 with 503bhp.
Standard equipment is generous. Owners have an 8.8-inch infotainment system, cruise control, dual-zone climate control, and a range of safety systems, including lane departure warning and automatic emergency braking.
The Giulia is not only a well-crafted vehicle but also bears the evocative Alfa Romeo badge with its exterior styling. Few cars on the road can match the sheer beauty of the Giulia. When you take it for a spin, be prepared for an extraordinary amount of attention.
4. Audi A4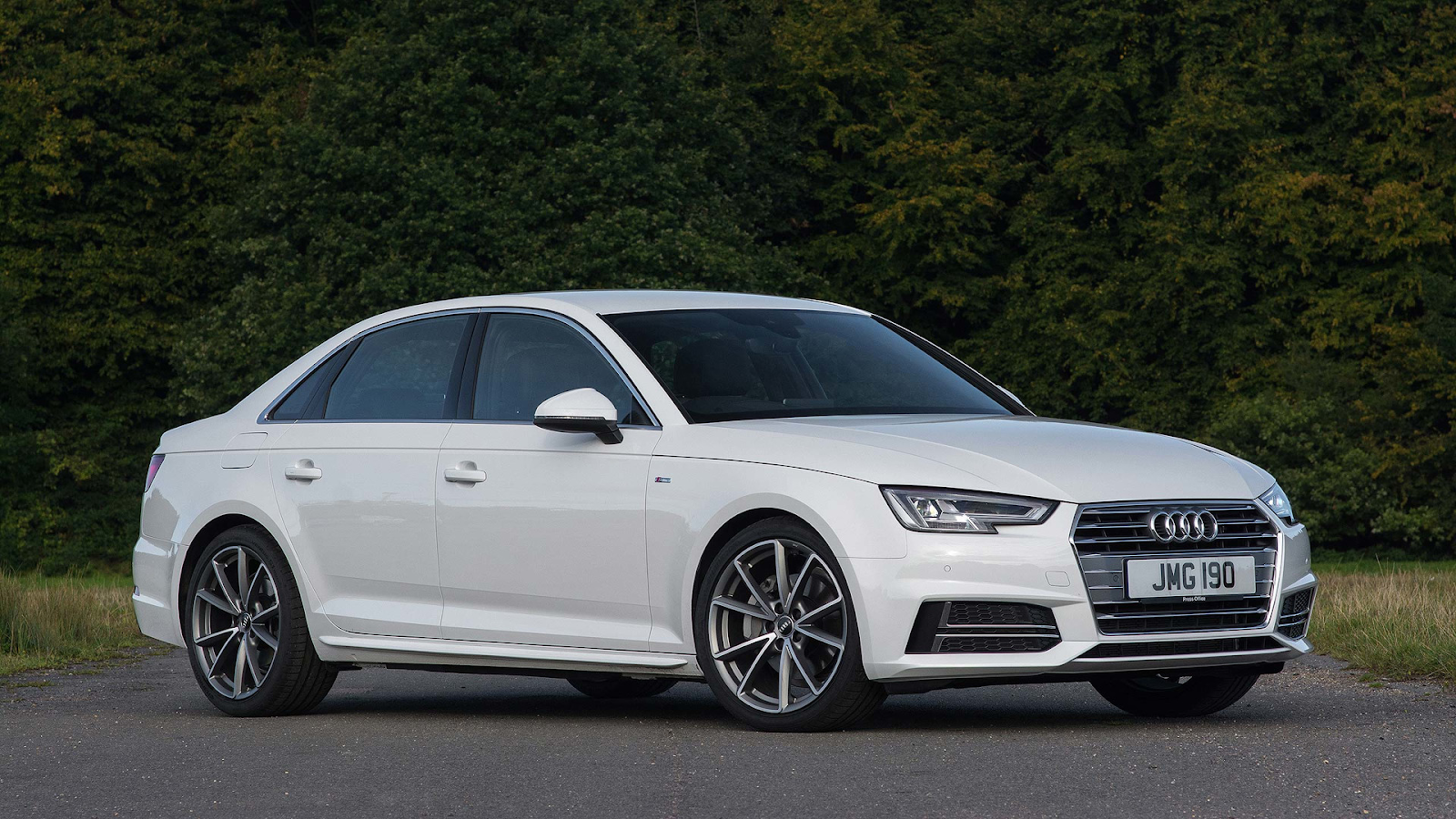 | | |
| --- | --- |
| Market price for a used model | From £16,400 |
| Body type | Saloon |
| Gearbox type | Manual, automatic |
| Doors | 4 |
| Seats | 5 |
| Fuel | Diesel, petrol, hybrid |
The Audi A4 is a dependable choice for its versatility, especially on twisty roads. While it may not deliver a thrilling driving experience, it handles itself confidently, even on uneven surfaces.
One of the A4's strengths is its range of engines. If you want a punchy ride, go for the 2.0 TDI or 3.0 TDI diesel engines; they offer lots of power. But if you care more about saving on fuel, check out the 1.4-litre and 2.0-litre petrol engines or the 2.0 TDI Ultra diesel — they're all about efficiency and emit less CO2.
Inside, the A4 impresses with its spacious cabin, which accommodates four adults comfortably. Visibility is excellent, and the driver's seat is easily adjustable. The boot space is larger than some rivals, such as the BMW 3 Series and Mercedes-Benz C-Class.
While the A4 might not lead the pack in terms of interior quality, it still features materials that feel solid. With a generous list of standard equipment, even the base SE model offers a compelling package.
5. Volkswagen Passat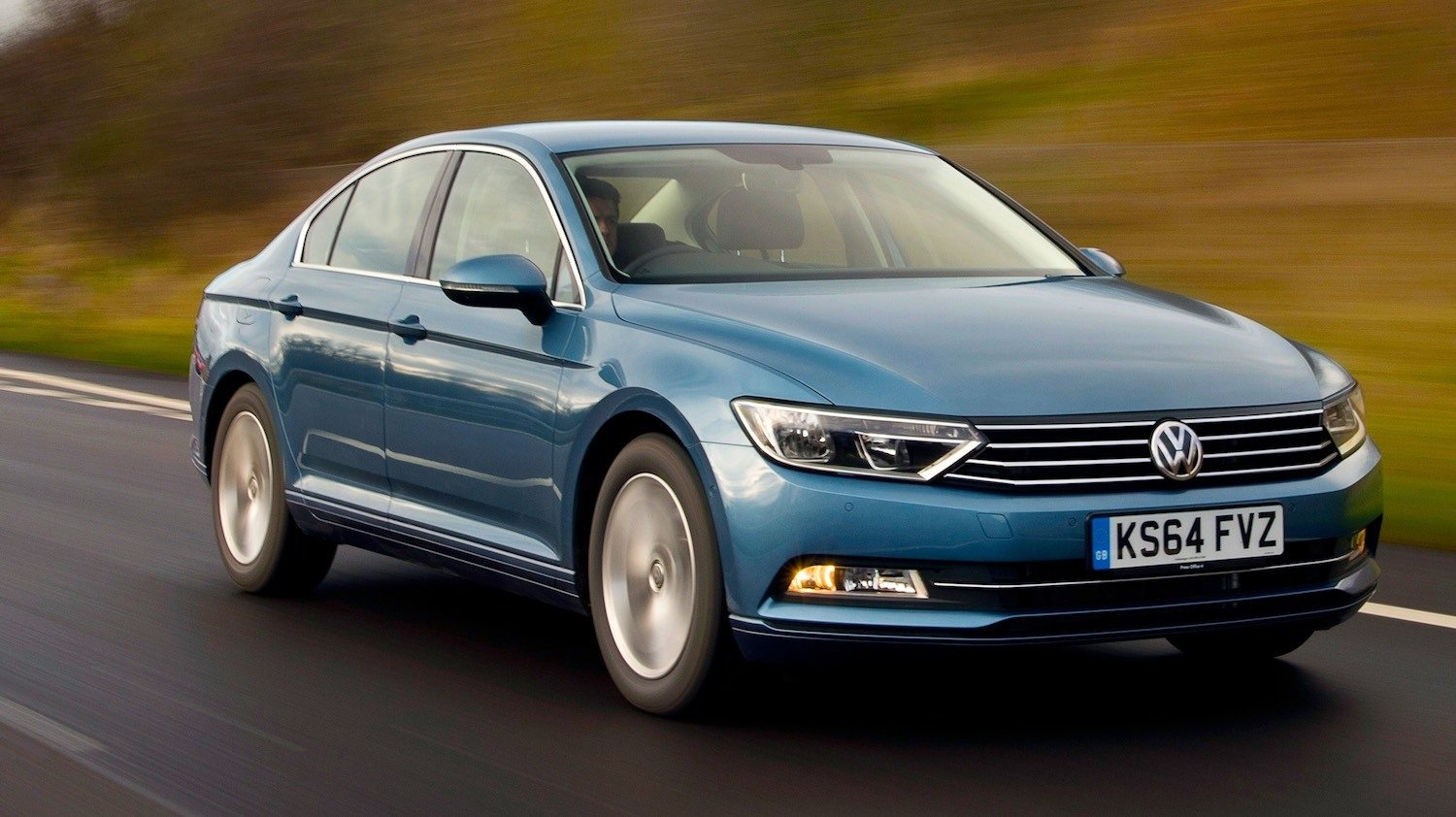 | | |
| --- | --- |
| Market price for a used model | From £11,900 |
| Body type | Saloon |
| Gearbox type | Manual, automatic |
| Doors | 4 |
| Seats | 5 |
| Fuel | Diesel, petrol, hybrid |
The Volkswagen Passat, another example of compact saloons, offers a balanced driving experience with a comfortable ride and a well-designed driving position. It took a while for the Passat to gain popularity in the UK. But since 2015, the Mk8 model has been a trusted choice for everyday buyers.
You have a variety of economical engines. For petrol, there are choices like the 1.4-litre with 124bhp or 148bhp, a 1.8-litre with 178bhp, and a powerful 2.0-litre with up to 268bhp. There's a hybrid GTE version that combines a 1.4-litre petrol engine with an electric motor. However, diesel engines are a popular choice, starting with the 1.6-litre one and going up to 2.0-litre and twin-turbo versions.
Even the entry-level SE trim comes well-equipped with features like infotainment, leather-trimmed steering wheel, and keyless start. Upgrading to SEL adds more advanced features like LED headlights and adaptive cruise control. Lastly, the R-Line trim offers a sportier look and a powerful petrol engine.
6. Volvo S60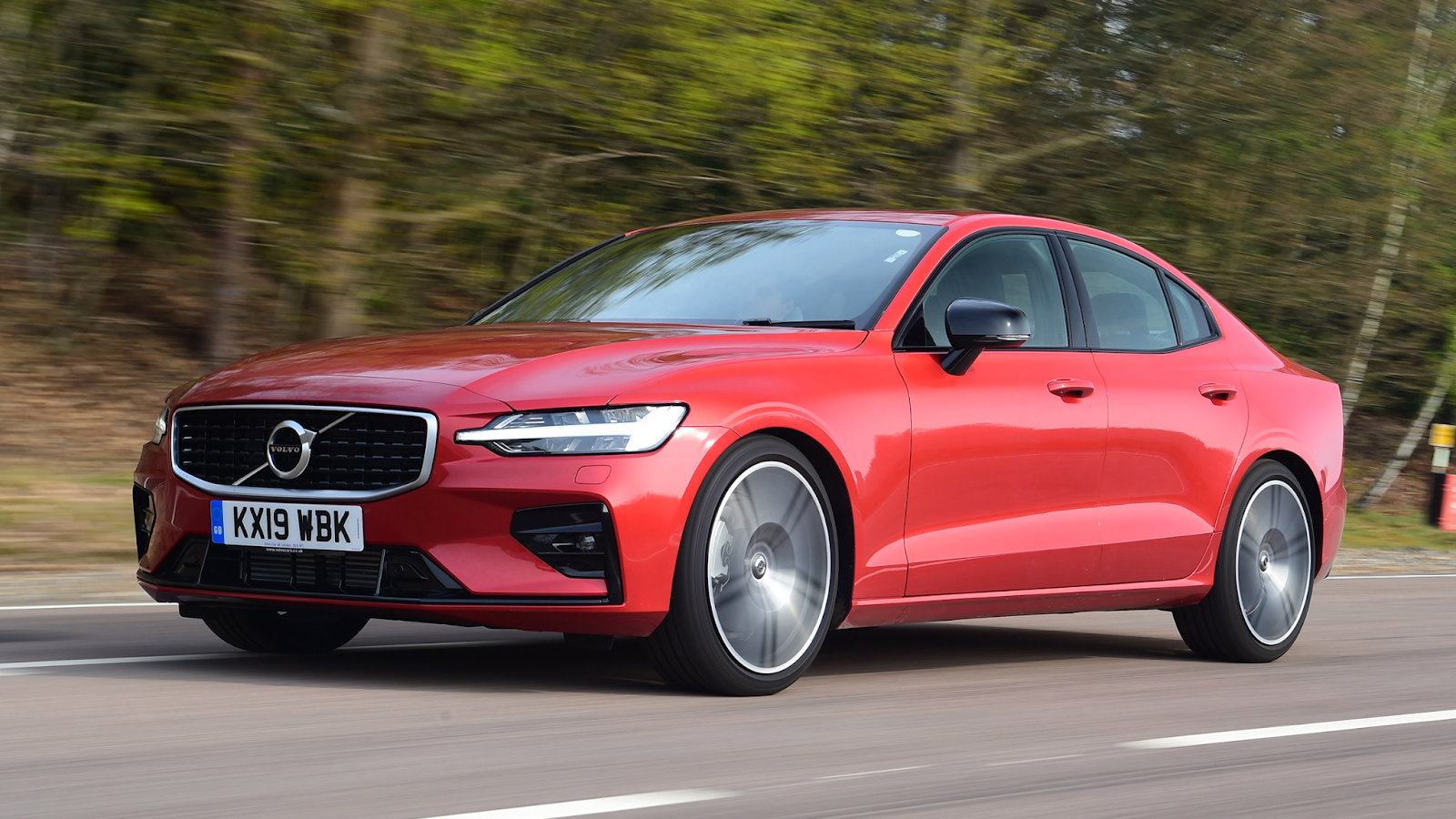 | | |
| --- | --- |
| Market price for a used model | From £12,000 |
| Body type | Saloon |
| Gearbox type | Automatic |
| Doors | 4 |
| Seats | 5 |
| Fuel | Petrol, hybrid |
The Volvo S60 sits in a unique space between the premium and mainstream saloons. What makes it special is the car's styling, comfort, plenty of features inside, and pleasurable motoring. Volvos are also known for their quality, and they tend to offer good value in the used car market.
If you peek under the hood, you'll find petrol engines, including a powerful 247bhp 2.0-litre T5 and a 385bhp 2.0-litre T8 plug-in hybrid. After a 2020 update, there's a 2.0 B5P regular petrol-electric hybrid and a 2.0 T8 Recharge PHEV plug-in hybrid. If you're into sportier driving, there's a Polestar Engineered version of the hybrid engine.
The S60 comes in two main trims: the Inscription and the R-Design. The first is luxurious with wood and chrome accents, and the second is designed for a sportier feel with lower suspension, larger wheels, and sleek black exterior elements.
7. Mercedes-Benz C-Class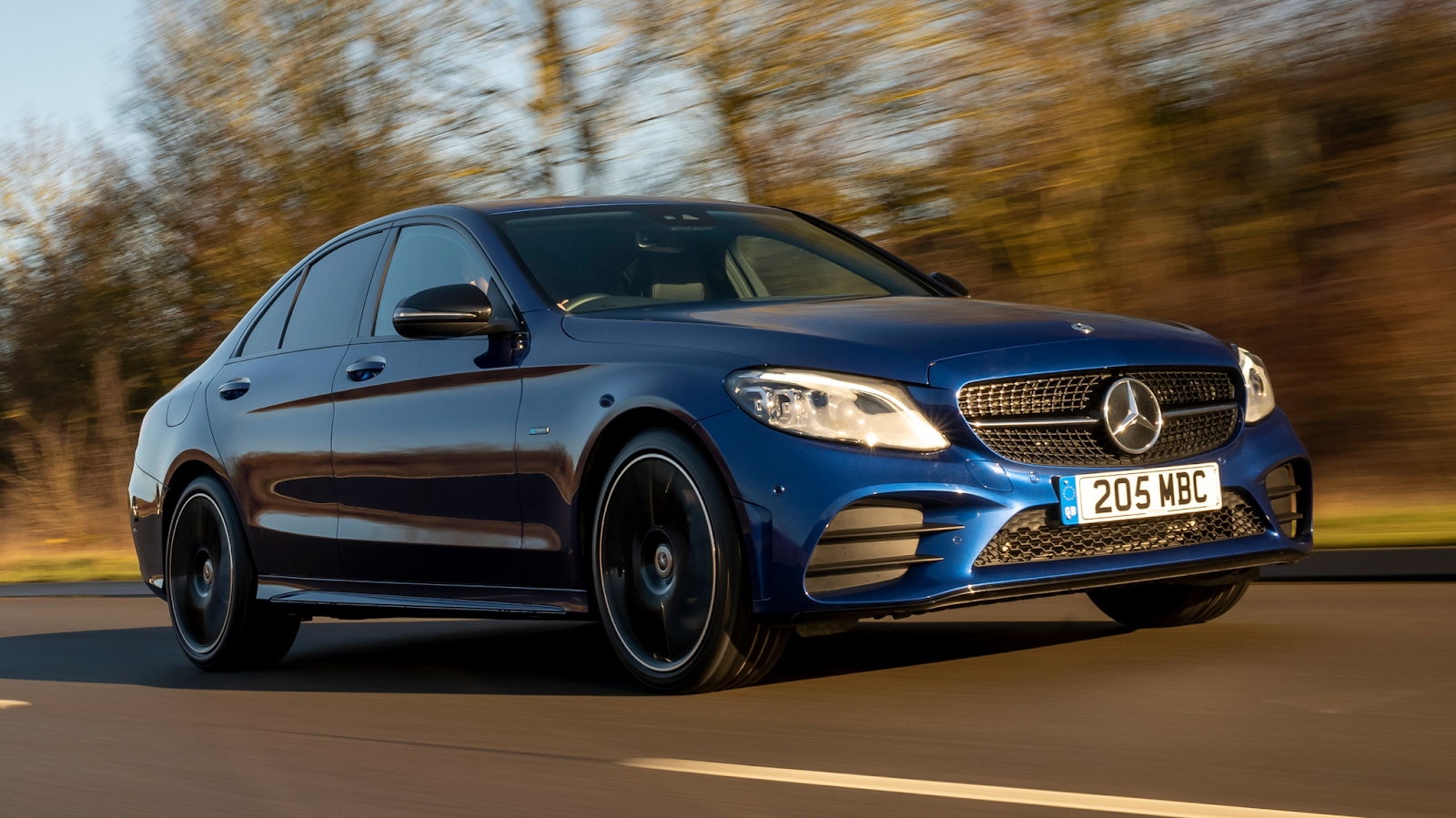 | | |
| --- | --- |
| Market price for a used model | From £17,400 |
| Body type | Saloon |
| Gearbox type | Automatic |
| Doors | 4 |
| Seats | 5 |
| Fuel | Diesel, petrol, hybrid |
Next on the list of a compact saloon options, Mercedes-Benz C-Class, exudes sophistication and delivers a comfortable and well-equipped environment.
There are various petrol options, starting with the 156bhp 1.6-litre C180 and moving up to the 184bhp 2.0-litre C200. For those seeking more power in their luxury cars, there's a 258bhp 2.0-litre C300. The performance-oriented C43 and C63 AMG models provide sheer pace and track-ready agility. Fuel economy-conscious buyers can opt for the C350e plug-in petrol hybrid, C300h diesel hybrid, or C300de plug-in diesel hybrid. However, real-world figures might differ from headlines.
Trim choices start from SE with standard features like 16-inch alloy wheels and a 7.0-inch infotainment system. It goes up to Sport with LED headlights and leather sports seats. The AMG Line adds sporty elements like 18-inch AMG alloy wheels and an aggressive body kit.
The C-Class offers a comfortable and high-quality interior with ample storage and adjustability. However, road and engine noise, especially in diesel versions, can be very noticeable.
Used Mercedes-Benz C-Class
8. Vauxhall Insignia Grand Sport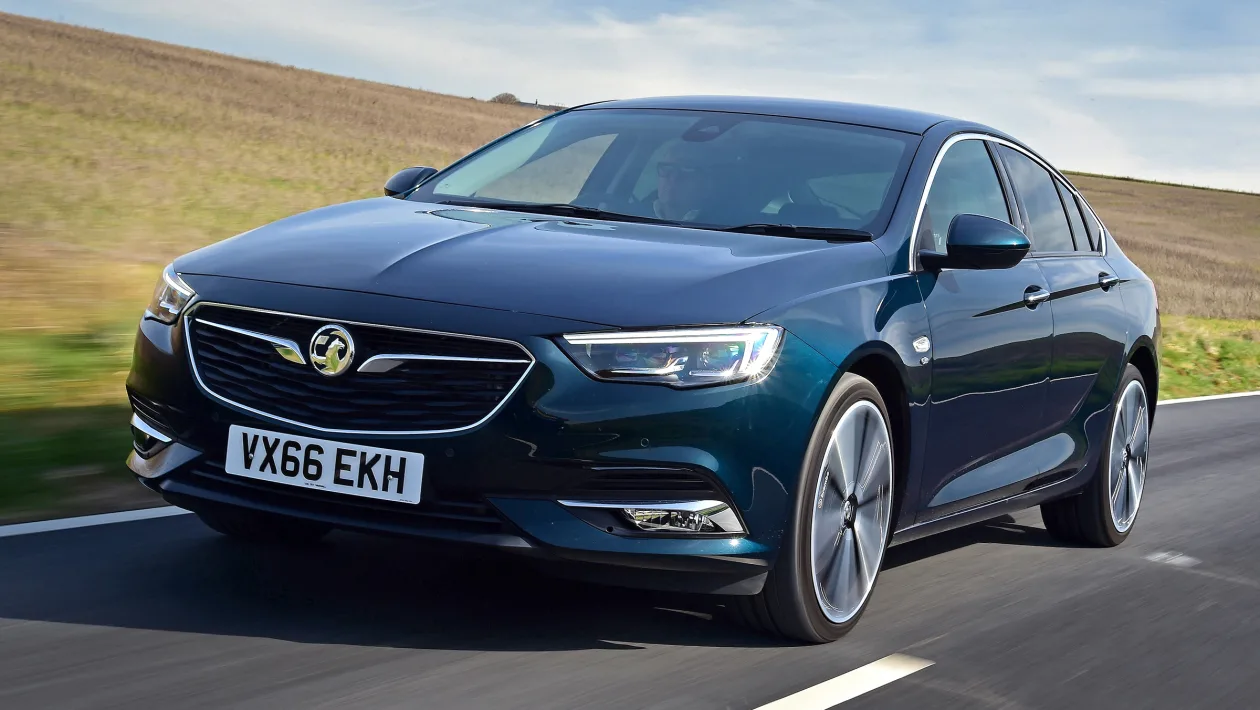 | | |
| --- | --- |
| Market price for a used model | From £8,400 |
| Body type | Saloon |
| Gearbox type | Manual, automatic |
| Doors | 4 |
| Seats | 5 |
| Fuel | Diesel, petrol |
The Vauxhall Insignia Grand Sport offers a premium experience without the high-end badge. This unique quality is excellent news for buyers in the used saloon car market.
The 1.5-litre turbo petrol is a budget-friendly choice with reasonable performance. The 2.0-litre turbo petrol is pricier and thirstier. On the diesel side, you have the entry-level 1.6-litre, and despite its size, it performs reasonably well.
Inside, the Insignia Grand Sport offers ample standard equipment and comfortable seats for long journeys. The interior feels solidly constructed, but some plastic appears somewhat cheaper as you go lower in the cabin. While it may not match some rivals' interiors in terms of classiness, it is practical and durable.
In terms of safety, lane departure warning and traffic sign recognition are standard across all Insignia Grand Sport models. This is a considerate touch that some competitors only offer as optional extras.
Used Vauxhall Insignia Grand Sport
9. Ford Mondeo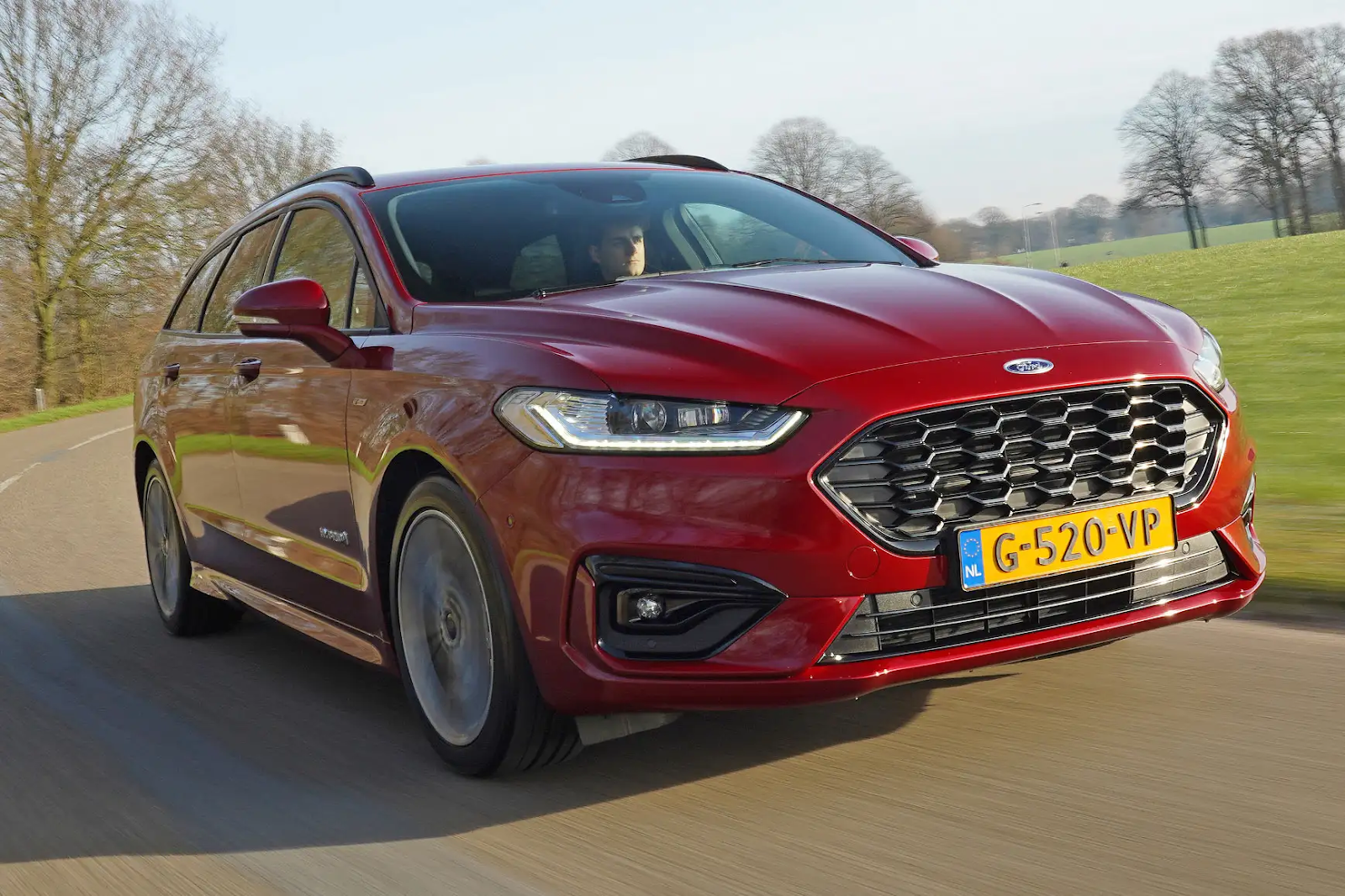 | | |
| --- | --- |
| Market price for a used model | From £7,500 |
| Body type | Saloon |
| Gearbox type | Manual, automatic |
| Doors | 4 |
| Seats | 5 |
| Fuel | Diesel, petrol, hybrid |
The Ford Mondeo, a nicely compact saloon, is a strong contender that offers several good reasons to consider it for your next car. Firstly, it has improved a lot in terms of how it drives. So, it matches up well with its mainly rear-wheel-drive German rivals. The interior also feels quite upscale, which is something modern Ford buyers appreciate.
You have a range of engines to choose from, including petrol options like the 1.0-litre, a mid-range 1.5-litre, and a 2.0-litre, all with decent fuel economy. Diesel lovers can pick from four versions, from a 1.6-litre to a 2.0-litre. There's even a hybrid version with low running costs.
The Mondeo line-up offers different trims to suit your needs, starting with the Style model for basic features. The Zetec model adds more convenience, and the Titanium Edition comes with luxury touches. The top-tier Vignale adds even more premium features.
On the road, the Mondeo is quiet and comfortable, and it's surprisingly fun to drive with excellent steering precision. It's one of the better-handling cars in its class.
10. Peugeot 508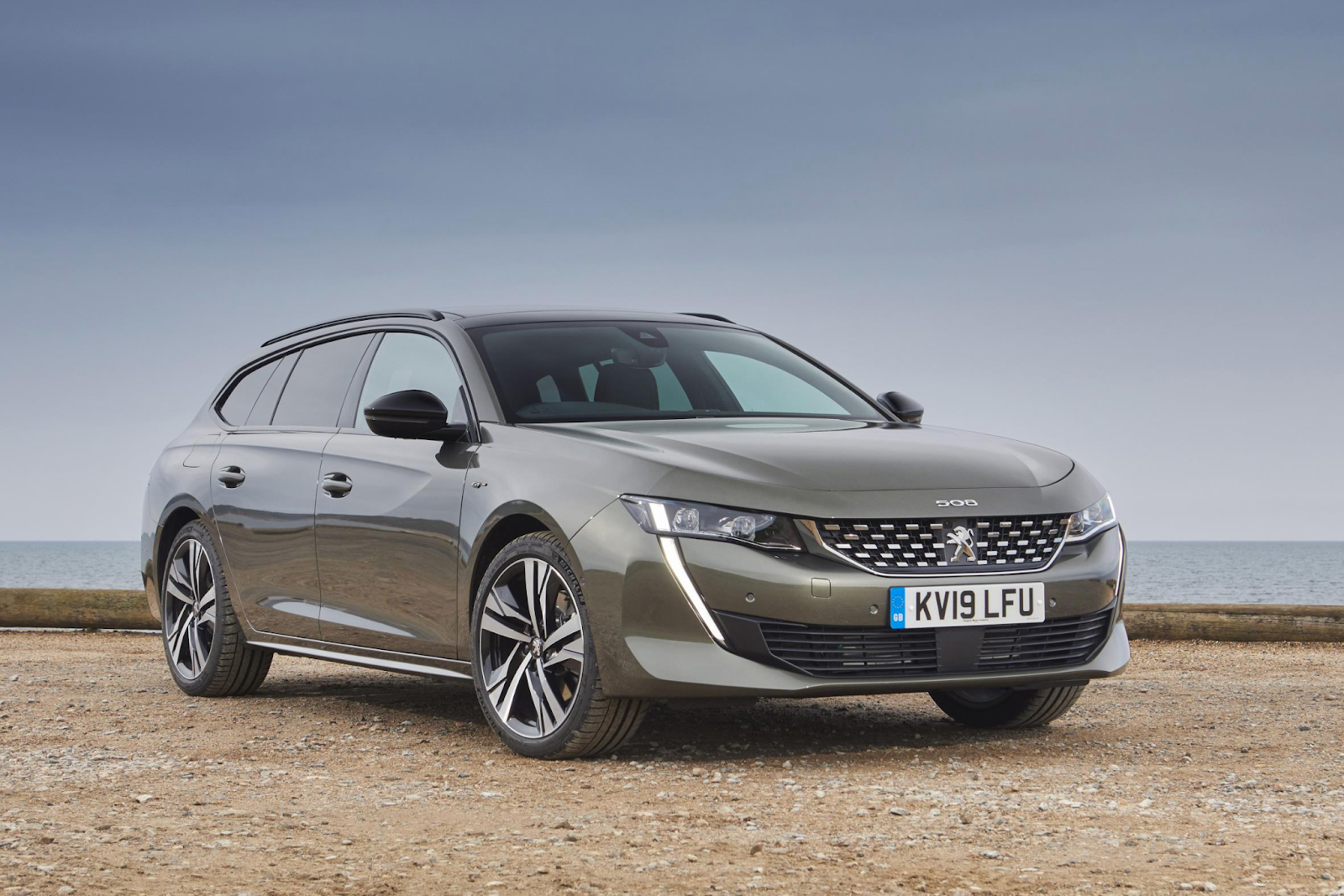 | | |
| --- | --- |
| Market price for a used model | From £8,800 |
| Body type | Saloon |
| Gearbox type | Manual, automatic |
| Doors | 4 |
| Seats | 5 |
| Fuel | Diesel, petrol, hybrid |
For decades, Peugeot has been known for practical family cars that are well-equipped and provide excellent value, particularly in the used car market. Therefore, the Peugeot 508 concludes our list of the best small saloon cars to consider in 2023.
This car provides a range of engine choices, including two petrol and three diesel options. Most models come with an eight-speed automatic gearbox. The exception is the entry-level 1.5-litre diesel, which offers a six-speed manual as standard.
In 2019, Peugeot introduced a plug-in hybrid version of the 508, combining a petrol engine with an electric motor for improved fuel economy. The plug-in hybrid 508 is particularly noteworthy because of its combined 296bhp.
Trim levels start with the Active and practical features like 17-inch alloy wheels and an 8.0-inch infotainment touchscreen. The Allure trim steps it up with a larger 10.0-inch touchscreen, heated front seats, and half-leather upholstery. The GT Line adds sporty elements like 18-inch alloy wheels and LED headlights. Finally, the top-tier GT comes with 19-inch alloys, active suspension, full leather upholstery, and an electric tailgate.
Final words: Best small saloon cars in 2023
In summary, there are many used compact saloons to choose from. But it ultimately depends on the specific options available in your local area. It's crucial to consider not only the specifications on paper but also how the car feels during a test drive. Pay special attention to roads that match your daily driving conditions. Plus, keep an eye out for excellent deals because small cars often come with some of the best discounts in the market.
To find the perfect small saloon car for your needs and explore any ongoing deals, don't hesitate to contact Carplus. Enjoy a smooth and satisfying car-buying experience with us!
Your monthly payment
£327.74
| | |
| --- | --- |
| Total charge of credit | £3,731.35 |
| Total amount payable | £15,731.35 |
Apply now for your personalised, no-obligation quote